This mango smoothie is a burst of healthy goodness and sunshine to start your morning. Mangoes are excellent for our eyes, gut, and skin. Not to mention oozing with fresh juicy goodness. You'll also learn how to add greens to this mango smoothie recipe and not even taste them. An awesome little benefit!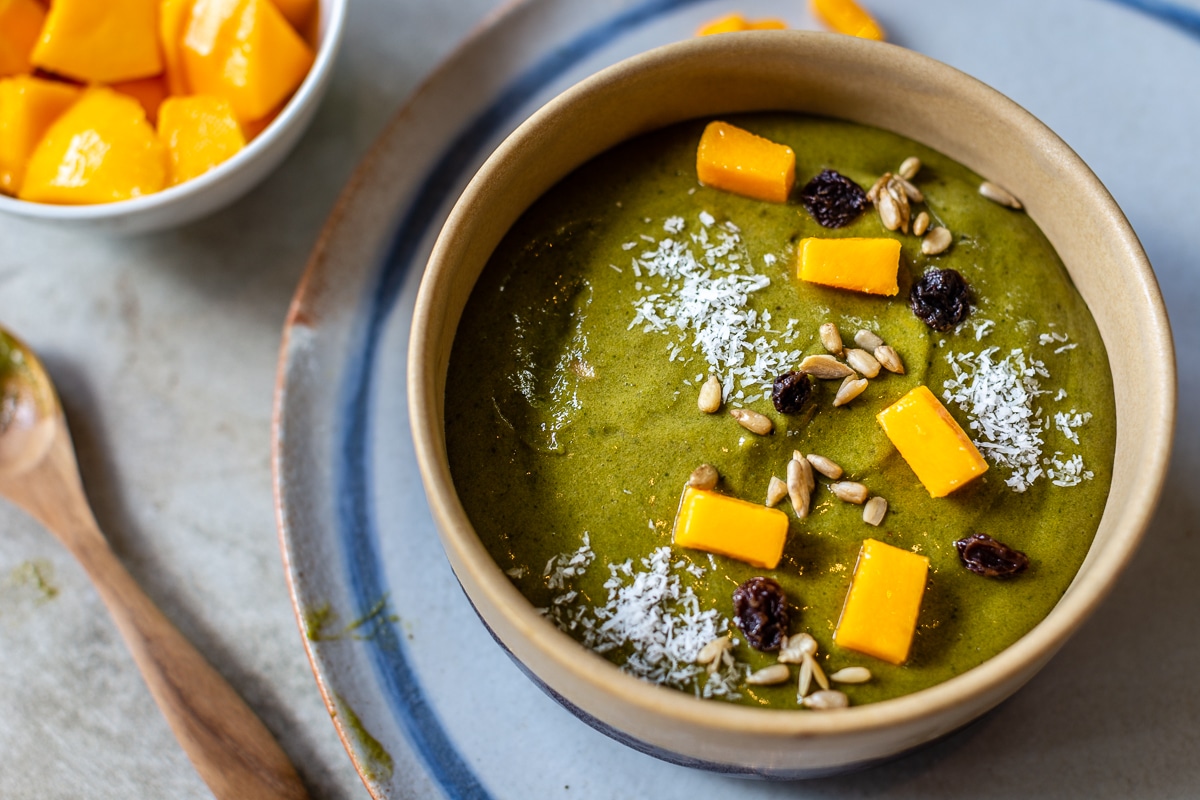 Looking for a fresh tropical smoothie? And curious about having your greens while enjoying them too?
Well look no further than this recipe of mango smoothie. You'll learn how to add in lots of spinach and find yourself saying, "Wow I can't even taste the greens." I promise that this delicious recipe of mango smoothie does that and even more!
Now smoothies can be sneaky and oh so helpful in many ways. Like so many of us, smoothies can be the gateway into healthy eating. They only take 10 minutes and can be made with a few ingredients. As someone who struggled with emotional eating, I discovered that it was ok to keep frozen fruit and plant based milk on hand. You may too!
Strawberry and mixed berry smoothies are fabulous smoothies especially to start out with. However mango smoothies are a very special kept secret. They are naturally sweet and all around good for us. We can sneak in our greens too. Great for our mango smoothie recipe!
Mangoes can be found year round in most grocery stores. Just look in the frozen aisle. You can also find fresh mangoes in the warmer months.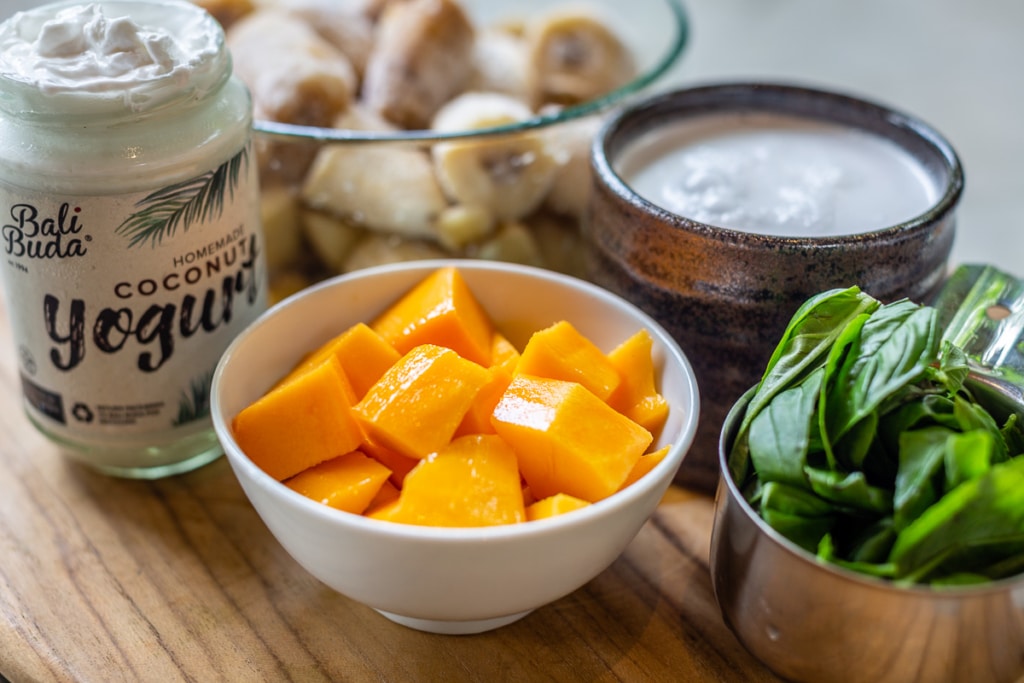 OUR SECRET RECIPE OF MANGO SMOOTHIE
There is a little secret to enjoying a mango smoothie and packing in the greens. It's all about the ingredients you choose.
Mangoes – You want to select a more naturally sweet fruit like mangoes.
Spinach – Balance out the sweetness of your mangoes with greens. Spinach is an excellent choice. Kale is too; it just has a more bitter taste.
Frozen bananas – Help create a smooth texture.
Coconut yogurt – Creates a creamy texture, adds in extra protein, and hides the green flavor.
Almond milk – Also helps to create a lovely texture and provide some calcium.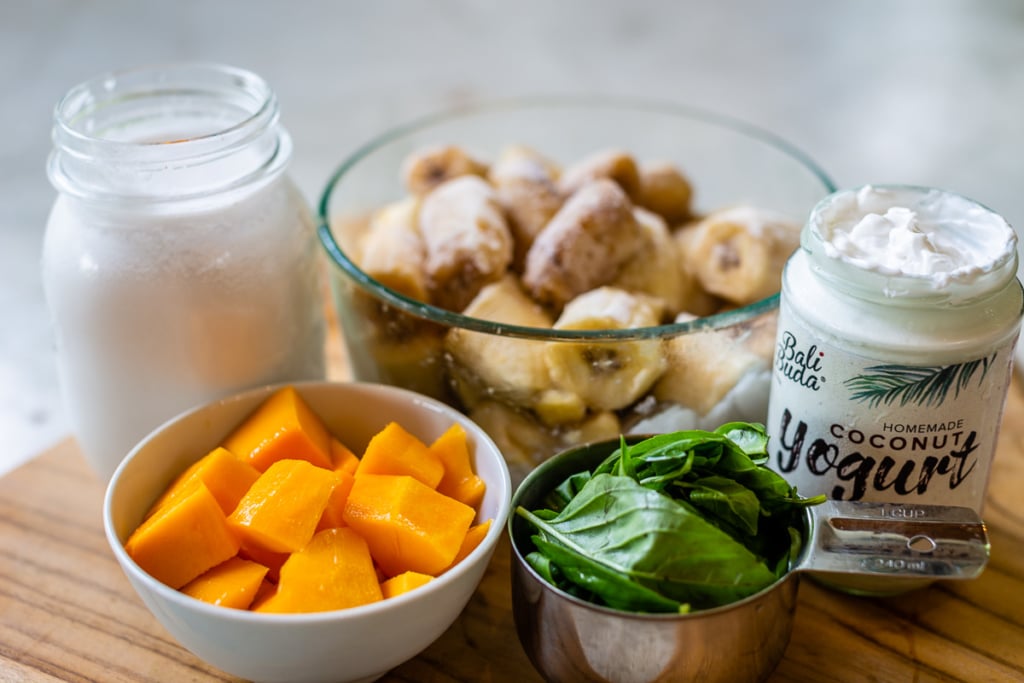 This is always a great question. Please avoid adding dairy and processed sugar to our recipe of mango smoothie. Dairy is a challenge to digest on its own and when combined with fruit, you can experience bloating and other unpleasant symptoms.
Fruit digests very quickly whereas dairy does not. Dairy can create a heaviness in the body and inflammation. Not exactly how you want to start your day.
HOW TO MAKE OUR RECIPE OF MANGO SMOOTHIE
Add all of our ingredients to a blender and blend together until you create a smooth texture.
If you're new to green smoothies, add your greens slowly. A common mistake is to add too many greens to your smoothie and the flavor can be overpowering.
And lastly turn this vibrant green recipe of mango smoothie into a bowl by topping with fresh fruit and nuts.
More Easy Breakfast Ideas
Don't forget to check out other breakfast varieties that use almond milk too. A favorite is our Oatmeal with Almond Milk Recipe. It's so filling and nourishing!
For another marvelous mango smoothie, subscribe to our email list. We've got even more smoothies that you won't find anywhere else.
Recipe of Mango Smoothie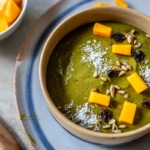 Print
This mango smoothie is a burst of healthy goodness and sunshine to start your morning. Mangoes are excellent for our eyes, gut, and skin. Not to mention oozing with fresh juicy goodness. The natural sweetness of the mangoes help hide that we've added greens to this smoothie.
Ingredients
4

frozen bananas

1

cup

mangoes

1

cup

spinach

1/2

cup

coconut yogurt

can use any plant based yogurt

1

cup

unsweetened almond milk
Instructions
Blend ingredients together until you create a smooth texture. Add a natural sweetener, if needed. I love to use medjool dates.

Top your smoothie with fresh fruit, shredded coconut, or any toppings you desire.
Notes
If you use frozen bananas and frozen mangoes, let your fruit thaw out for 5 minutes. You may also need to pause and stir your smoothie to make sure everything gets blended thoroughly.
You can add a tablespoon of chia or hemp seeds for more protein. Mitch loves the extra protein as he eats smoothies after a quick morning workout!
Calories:
320
cal
•
Carbohydrates:
70
g
•
Protein:
5
g
•
Fat:
6
g
•
Saturated Fat:
3
g
•
Trans Fat:
1
g
•
Sodium:
188
mg
•
Potassium:
1067
mg
•
Fiber:
9
g
•
Sugar:
41
g
•
Vitamin A:
2450
IU
•
Vitamin C:
55
mg
•
Calcium:
186
mg
•
Iron:
1
mg
Pin Recipe
By

Want to stop binge and emotional eating for good?
Get my 20 must-have recipes e-book packed with simple nourishing recipes you enjoy.
Privacy Policy: We hate spam and promise to keep your email address safe