A heartwarming bowl of oatmeal with almond milk naturally sweetened with a banana. Let's make eating food you enjoy quick and easy. In minutes, you can have a warm and filling breakfast.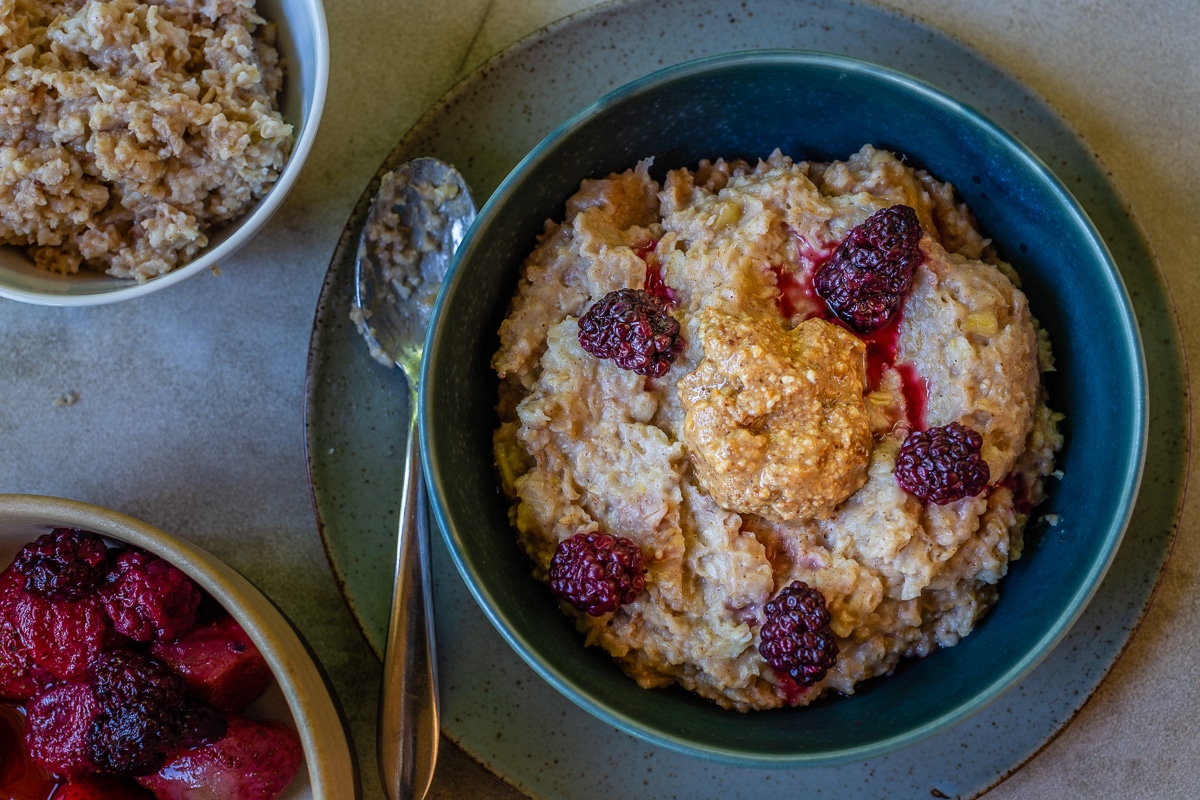 What if I told you I ate oatmeal everyday twice a day for 5 plus years? Now you may be thinking – wait say that again? Is that even healthy?
That's right when I was 17 years old, I became frightened of calories and decided almost overnight that I would eat only healthy foods. It was important to me that I was skinny. So I began controlling and restricting ALL of my food.
Starting out, I didn't understand what healthy food entailed. I grew up eating a typical American diet – boxed cereal with milk for breakfast, turkey sandwich and chips for lunch, ice cream for a snack, meat and potatoes for dinner.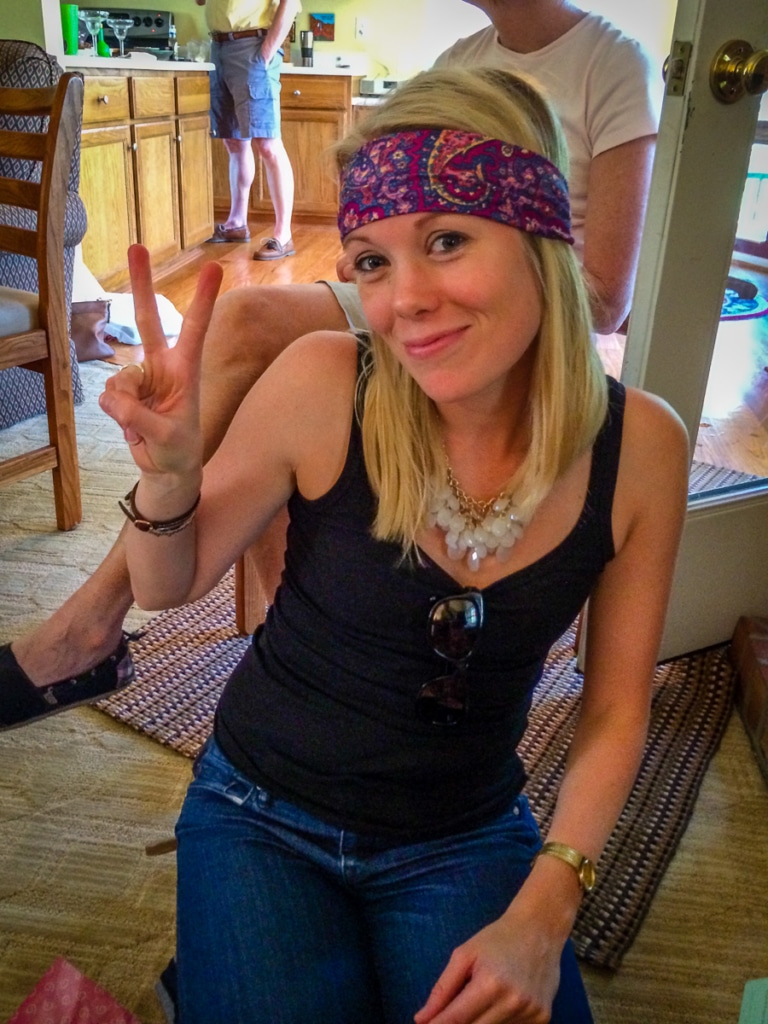 I wanted to change and found an essential pantry item, rolled oats. I looked at the amount of calories in 1/2 cup of oats. And decided to start making oatmeal for breakfast, lunch, and dinner.
Gone were the days where I would enjoy a piece of cake with friends or a burger and fries. I became known as a healthy eater and felt I could only eat "healthy" foods around family and friends.
Soon I was off to college and away from my family for the first time. I didn't know anyone in my new town. I thought that being strong and independent meant that I didn't share how lonely I felt.
It didn't help that in my first month of college, I failed my first 2 exams. I was devastated. I was typically a good student and wasn't used to low grades which caused even more anxiety.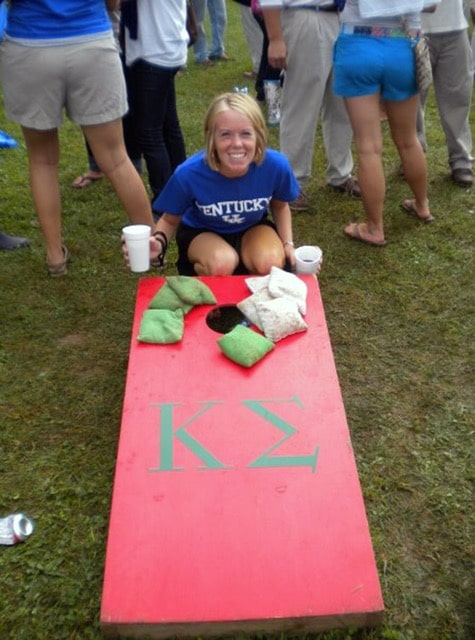 To deal with my emotions, I turned to something that was consistent and made me feel good – a warm bowl of oatmeal with almond milk.
Deep down I wanted to be healthy. I just didn't know where to start. I knew a strict diet of oatmeal with almond milk and a few other items was not healthy. My hair and nails became brittle. My body wanted a variety of nutrients. Plain and simple – I wasn't giving myself that.
It would take me 12 years to figure out that being healthy is more than eating less and exercising. It's about changing our habits and changing our lives.
Oatmeal with almond milk is a good breakfast habit
All the while I realized and once again have been enjoying oatmeal with almond milk as a good breakfast habit. Back then I just needed to show myself some kindness.
Because oatmeal with almond milk is a great way start to the day. It's filling, nourishing, and delicious. Oatmeal with almond milk is good anytime of the year – warms you up during colder months and refreshing in the warmer months topped with fresh fruit.
Let's dig into oatmeal with almond milk's benefits
Made In Minutes
Oatmeal can be ready in less than 10 minutes! If you have work to do, kids to feed, or places to go, you can always put it in a cup and eat it on the go.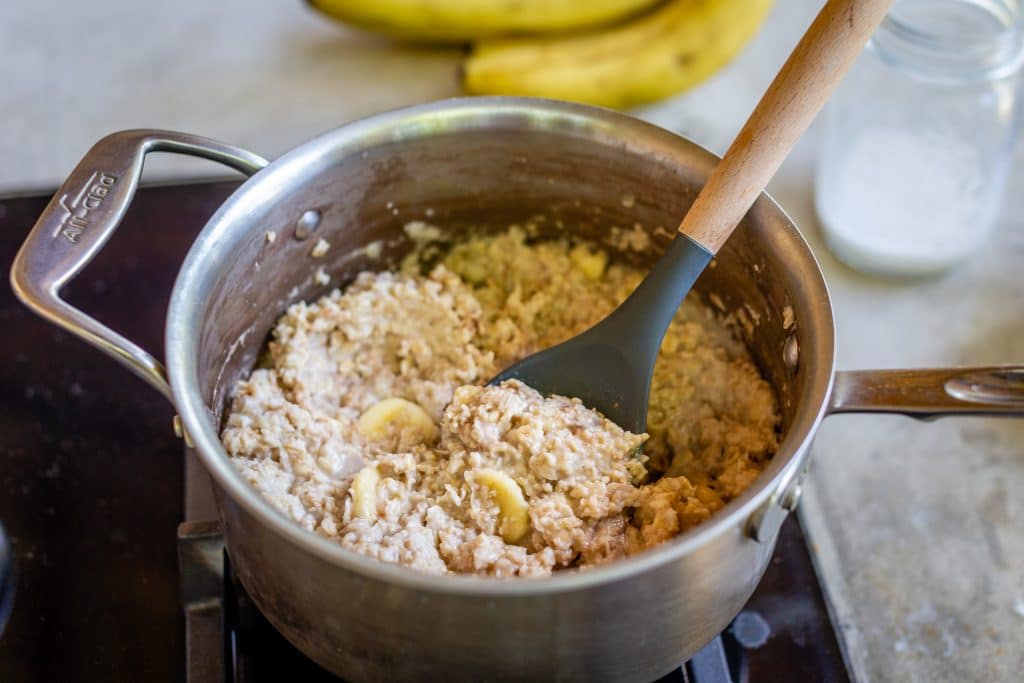 Uses Everyday Pantry Items
You can keep oats on hand for a long time and they don't go bad. As we're spending more time at home, it's easy to grab oats from the pantry and almond milk from the fridge. Mix together on the stove or microwave. And voila!
I personally prefer rolled / old-fashioned oats to quick oats. Rolled oats absorb more liquid and hold their shape well. These are great for oatmeal / porridge, granola bars, and cookies. To speed up the cooking time, you can soak the rolled oats before cooking.
Instant or quick oats can be used in place of rolled oats. Their cook time will be much less but the final dish may not have as much texture.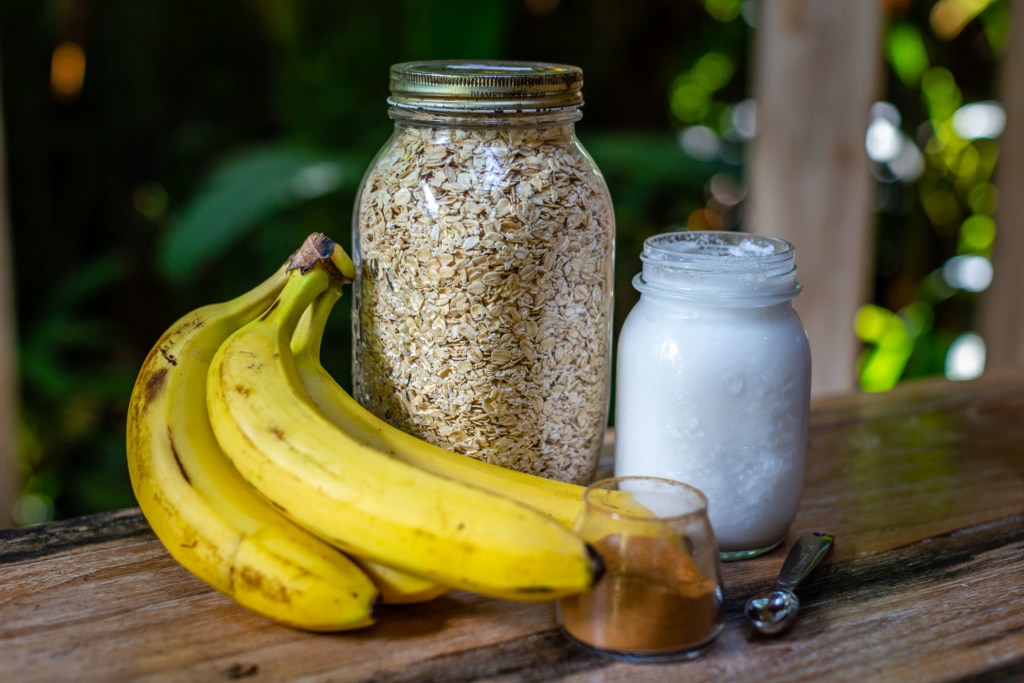 Change It Up
It's super easy to make oatmeal with almond milk. You can add a sliced banana to give it extra sweetness. Nuts, fresh fruit, dried fruit are all great additions. You can keep your oatmeal as simple or creative as you like!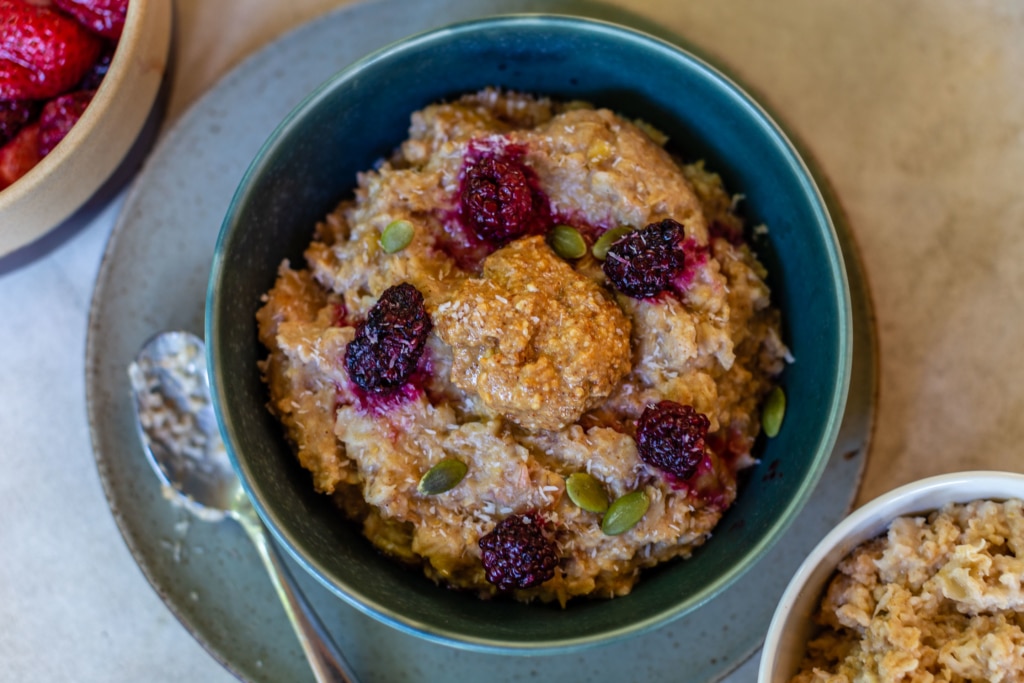 Contains Calcium
Almond milk has a pleasant nutty flavor and is enriched with calcium. It's high in minerals and vitamins while being low in calories. Try to select an unsweetened almond milk or any unsweetened plant based milk. Oatmeal with coconut milk is another good option.
I personally like unsweetened almond milk as I can play with the sweetness level. If you are new to plant based milk, you can start out with a sweetened one. Overtime, our taste buds will change.
Note that the store bought almond milk will keep in the fridge for 7-10 days. Just shake the almond milk up before using as the calcium deposits often settle at the bottom of the carton.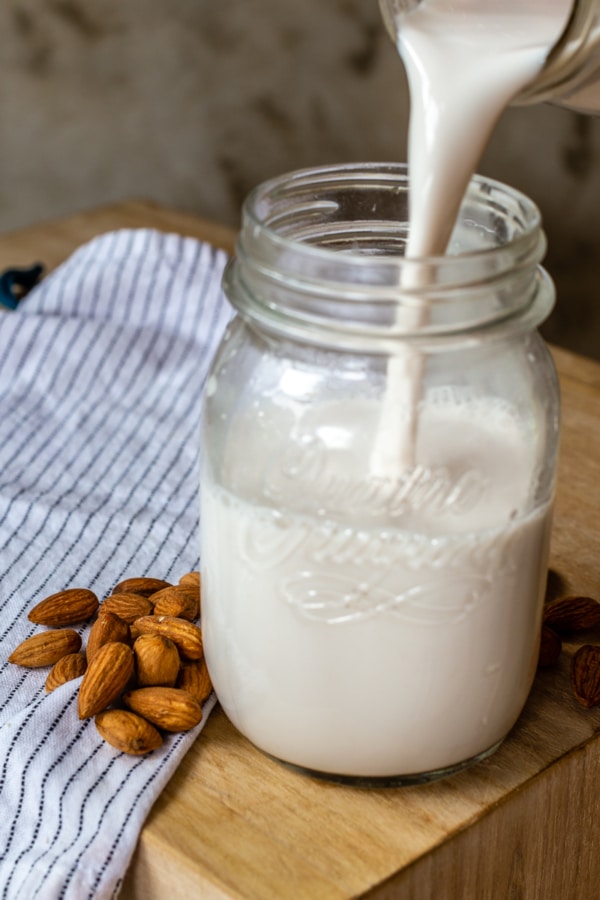 Fills You Up
Oats are high in fiber and absorb water which makes you feel fuller longer. You can also make it even more filling by topping with a protein such as peanut butter.
And you know what? This is just the start. You can add whatever toppings you like – chia seeds, nuts, and cacao/cocoa powders.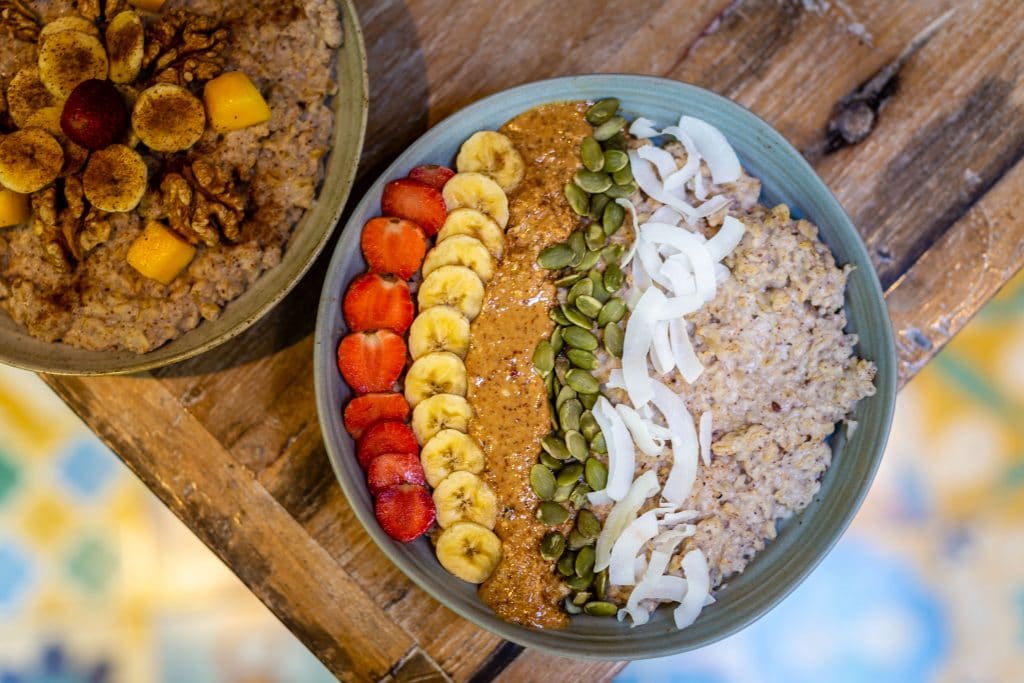 How to Make Oatmeal with Almond Milk
You can make oatmeal on the stove or in the microwave. Feel free to play with the almond milk to oats ratio based on your preference. I personally like 2 parts almond milk to one part oats.
Check out the recipe below for more details.
More easy breakfast ideas
Oatmeal with Almond Milk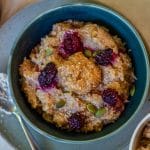 Print
Oatmeal with almond milk is a great breakfast and start to your day. It's filling, nourishing, and delicious. And good anytime of the year – warms you up during colder months and refreshing in the warmer months topped with fruit.
Ingredients
2

cup

almond milk

unsweetened

1

cup

rolled oats

1/2

teaspoon

cinnamon

1/2

teaspoon

vanilla extract

1

banana
Instructions
Add oats, almond milk, cinnamon, vanilla extract, and banana to a saucepan.

Bring to a boil then reduce to a simmer for 5 minutes.

Stir. Add more almond milk if you want a thinner smoothie and cook longer if you want thicker oatmeal.

Top with berries. Best enjoyed immediately.
Notes
Feel free to add a pinch of salt to help enhance the flavors. 
Optional toppings could include peanut butter, sliced bananas, shredded coconut, berries, cacao / cocoa powder, and fresh fruit!
Calories:
240
cal
•
Carbohydrates:
42
g
•
Protein:
7
g
•
Fat:
5
g
•
Saturated Fat:
1
g
•
Polyunsaturated Fat:
1
g
•
Monounsaturated Fat:
2
g
•
Trans Fat:
1
g
•
Cholesterol:
1
mg
•
Sodium:
173
mg
•
Potassium:
518
mg
•
Fiber:
7
g
•
Sugar:
8
g
•
Vitamin A:
188
IU
•
Vitamin C:
5
mg
•
Calcium:
471
mg
•
Iron:
3
mg
Pin Recipe
By

Want to have

freedom

from your food and thoughts?
Get my 20 life-changing recipes e-book to overcome any struggles with food and your body.
Privacy Policy: We hate spam and promise to keep your email address safe