Let's learn how to make a pineapple smoothie. We'll keep it really simple with just 4 ingredients. Grab some pineapple and an orange and let's get to making this tropical smoothie.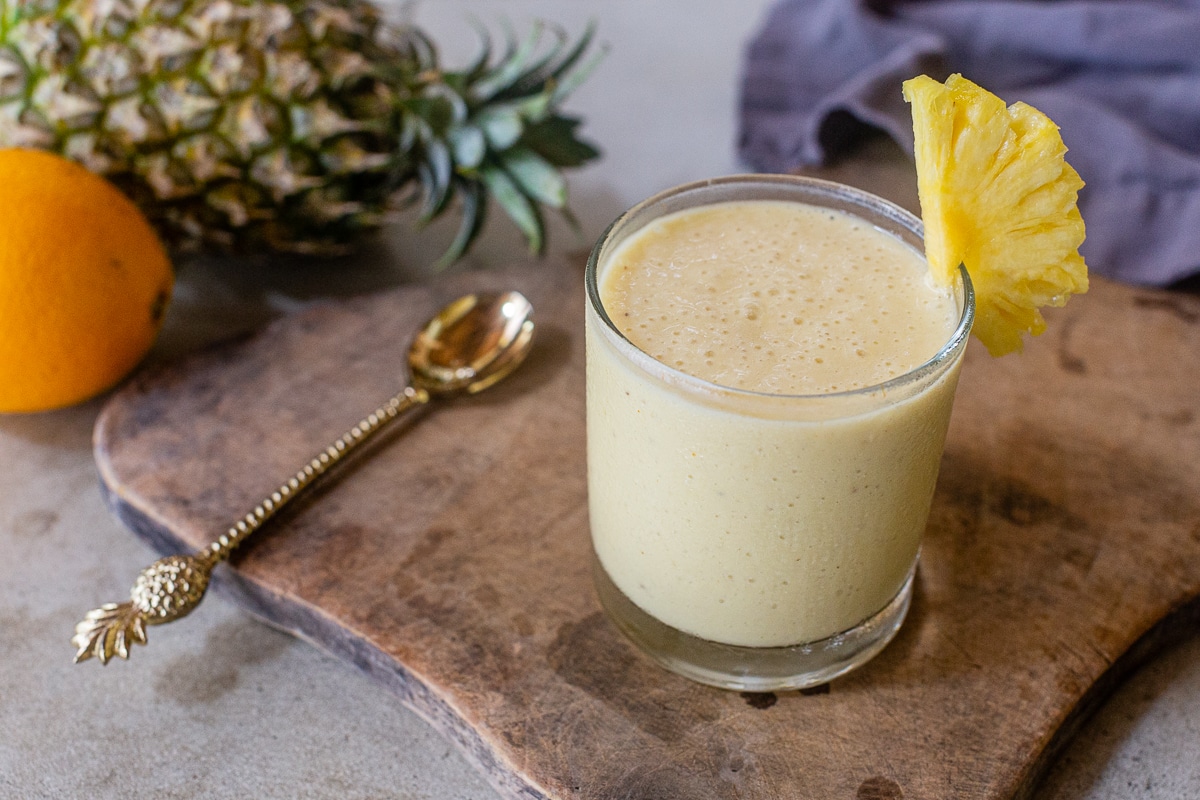 Let's be honest, it can feel like there are a million things to do in the morning. Eating a breakfast you feel good about often just doesn't make the list. But what if we made our breakfast so simple. Simple enough that it would be silly not to make it.
I'm talking about learning how to make a pineapple smoothie. It's hard to add in anything new to our lives when we make it complicated. Here I'll share how to make a pineapple smoothie a part of your morning routine. And something you feel drawn to.
PINEAPPLE SMOOTHIE INGREDIENTS
The secrets to making a smoothie starts out with using simple ingredients.
Bananas
Pineapple (fresh or frozen)
Orange
Plant based milk
Ripe bananas will make all the difference in your smoothie. You can buy a bunch of bananas and let them ripen. Then cut the banana into 6 pieces so that you know how many pieces make up one banana. Then place them in the freezer. If you have space in your freezer, place them in a single layer so that it is easier to grab and go.
Oftentimes you may wonder why your smoothie isn't sweet enough and the culprit is usually not having ripe enough bananas. So bruised and spotted bananas are actually a really good thing for smoothies.
The frozen bananas are what give this pineapple smoothie a nice creamy and cool texture. Yet if you don't like to plan ahead you can use fresh bananas. Just know that the texture won't be as cool and thick.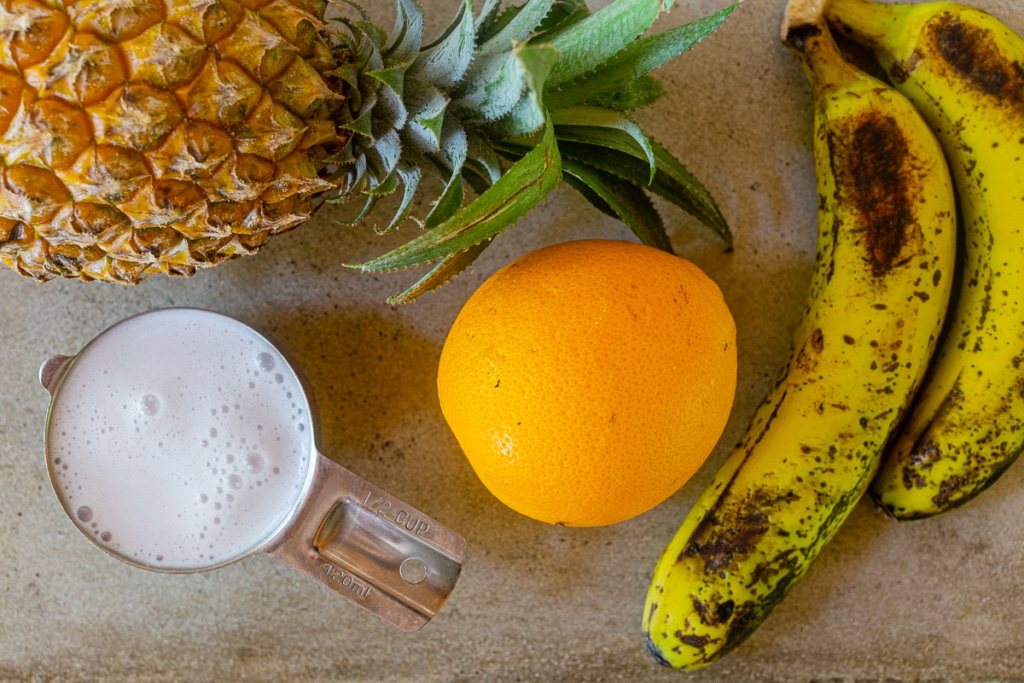 When first starting you may wonder, what is the right plant based milk to use? There are so many out there: almond, coconut, cashew, and oat milk. There is no one right answer. It's best to taste test and see what plant based milk tastes best for you. Often for lattes people prefer oat milk. Yet for smoothies, you really can't go wrong.
The plant based milks I use often are almond and coconut milk. You'll want to select an unsweetened product, so that there is less sugar. You could use cow's milk in this recipe. However, cow's milk can cause inflammation in the body. This can look like feeling congestion or bloated. Not exactly how you want to start the day.
Learning how to make a pineapple smoothie is easy. The use of an orange helps balance out the acidity from the pineapple. However you're not going to want to use store bought orange juice.
Processed orange juice is not as healthy as you may think. Most processed orange juice contains as much sugar as in a glass of Coca Cola. Wild right?! This can cause blood sugar spikes and unnecessary weight gain.
I recommend buying an orange and freshly squeezing it. You can slice an orange in half and squeeze it with your hand. You can also use a lemon squeezer and place the slice orange face down and squeeze it directly over your blender.
There you've added a freshly squeezed orange to your pineapple smoothie. Delish! And you get the health benefits of the antioxidants and vitamin D.
DO I NEED TO USE FRESH PINEAPPLE
Nope, you can use frozen pineapple chunks in this recipe too. We want to keep this recipe as simple as possible. Often cutting a pineapple can be time consuming. Buying a bag of frozen pineapple and storing it in your freezer will do the trick.
Just note that fresh fruit typically has more flavor than frozen. The most important thing is that you make your pineapple smoothie as easy as possible. So that you feel good about yourself and come back to this nourishing breakfast over and over again.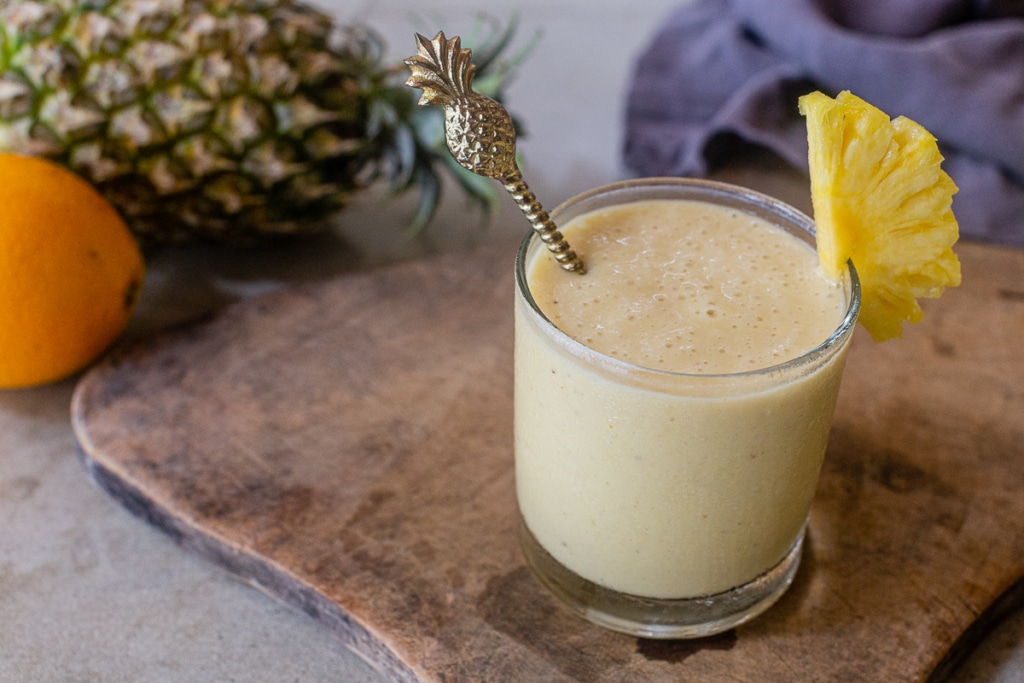 How to Make a Pineapple Smoothie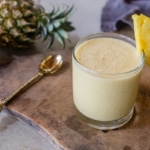 Print
Let's learn how to make a pineapple smoothie. We'll keep it really simple with just 4 ingredients. Grab some pineapple and an orange and let's get to making this tropical smoothie.
Ingredients
1/2

cup

fresh or frozen pineapple

cut into chunks

2

frozen banana

chopped

1/2

cup

coconut milk

unsweetened (use any plant based milk you prefer)

1/4

cup

orange juice

(I used an orange and squeezed out the juice)
Instructions
Blend ingredients together until you create a smooth texture. Place smoothie in a glass and enjoy!
Notes
I prefer to use a freshly squeezed orange as there aren't any preservatives. There isn't any artificial sugar.
Calories:
151
cal
•
Carbohydrates:
36
g
•
Protein:
2
g
•
Fat:
2
g
•
Saturated Fat:
1
g
•
Polyunsaturated Fat:
1
g
•
Monounsaturated Fat:
1
g
•
Sodium:
19
mg
•
Potassium:
529
mg
•
Fiber:
4
g
•
Sugar:
21
g
•
Vitamin A:
161
IU
•
Vitamin C:
45
mg
•
Calcium:
25
mg
•
Iron:
1
mg
Pin Recipe
By

Want to stop binge and emotional eating for good?
Get my 20 must-have recipes e-book packed with simple nourishing recipes you enjoy.
Privacy Policy: We hate spam and promise to keep your email address safe