Okay friends if you're looking for healthy chocolate chip muffins, you've gotta make these. They're made with zucchini, naturally sweetened with a banana, and cocoa powder for a rich chocolatey flavor.
Have you ever been afraid of bread and muffins? You're not the only one. Ask any person trying to lose weight or overcome an eating disorder, they'll cut out the carbs. That it is something to be feared.
But does that mean that we really need to? No, restricting and cutting out food you once loved isn't the answer. Instead it's taking a kindness approach and allowing ourselves food that we love. Food filled with wholesome ingredients.
These healthy chocolate chip muffins are a recipe that won't disappoint.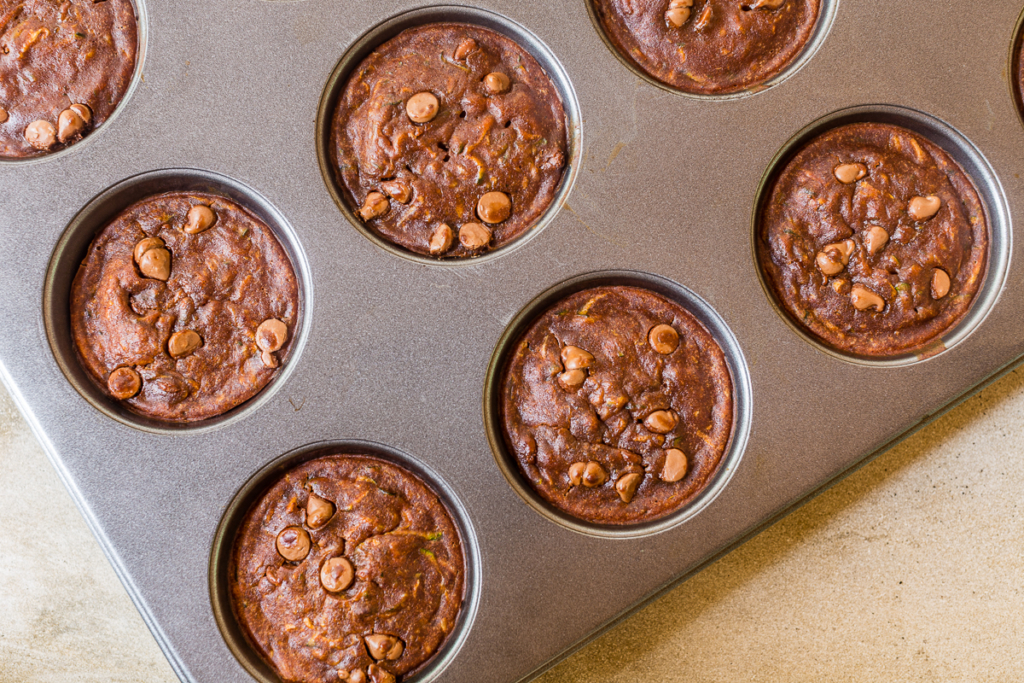 WHY HEALTHY CHOCOLATE CHIP MUFFINS ARE SO GOOD
Maybe you've struggled with food for years. Maybe even decades. You're not alone. I've been there and so many women have too. The thought of having chocolate chip zucchini muffins in your home may be alarming and cause anxiety.
That's okay. It takes time. If you're feeling up for it, I've discovered that bread can be hard to keep in the home. Maybe you go back for seconds or are afraid you cut too big a slice. The brilliant thing with muffins is you can take one and walk away. You know exactly how much you eat.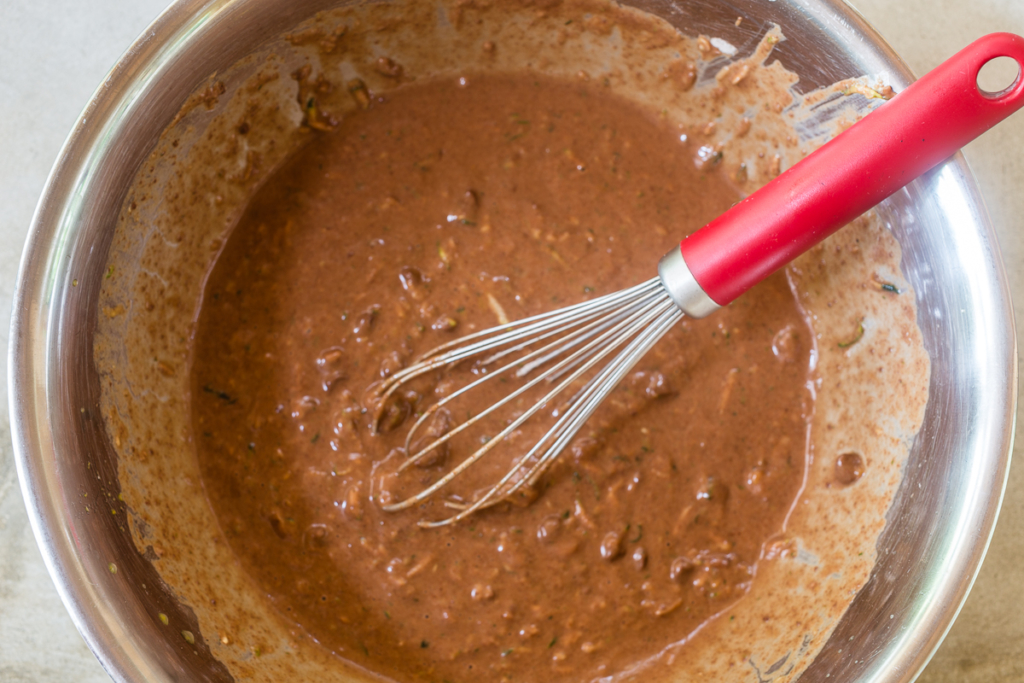 HOW TO MAKE HEALTHY CHOCOLATE CHIP MUFFINS
The thought of making homemade recipes can feel overwhelming and too time consuming. I'm here to share that homemade muffins don't need to come from a box. You can grab a few ingredients. Give it a good stir in one bowl and pop it in the oven.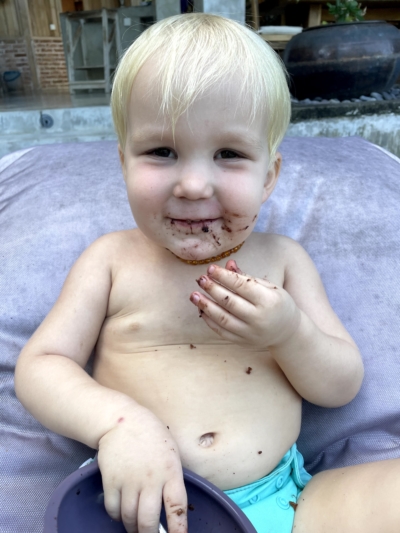 And yes these healthy chocolate chip muffins are definitely kid approved. So good to eat anytime of the day. These muffins taste great for breakfast or a mid afternoon snack. Enjoy my friend!
If you liked this recipe, I think you'll love my chocolate chip zucchini muffins. They are also sweetened with a ripe banana and another healthy muffin option without cocoa powder.
Healthy Chocolate Chip Muffins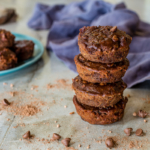 Print
Okay friends if you're looking for healthy chocolate chip muffins, you've gotta make these. They're made with zucchini, cocoa powder, and naturally sweetened.
Ingredients
1 1/4

cup

all purpose flour or pastry flour

1/4

cup

cocoa powder

1/2

teaspoon

baking soda

1/4

teaspoon

salt

1

egg

1/3

cup

honey or maple syrup

1 1/2

tablespoon

coconut oil

melted and cooled

1/2

teaspoon

vanilla

1

cup

zucchini

grated and unpeeled (about 1 medium zucchini)

1

ripe banana

mashed

1/4

cup

almond milk

unsweetened

1/2

cup

chocolate chips

plus 2 tablespoons for optional topping
Instructions
Preheat the oven to 350 F / 176 C. Place a little coconut oil in each muffin tin. You can also use muffin liners. I have found just a bit of coconut oil rubbed in the muffin tin does the trick without making extra waste. You could also use a touch of vegetable oil.

With your hands, squeeze shredded zucchini to remove unnecessary water. You can do this over a sink. Set aside.

In a mixing bowl, add flour, cocoa powder, baking soda, and salt. Give it a stir and set aside.

In another mixing bowl, add in egg, honey, coconut oil, honey, and vanilla. Whisk or use a mixer until combined. Then, add in the mashed banana and almond milk and mix again. Slowly add in the dry ingredients and stir until combined. Fold in grated zucchini and 1/2 cup chocolate chips.

Transfer the batter to a muffin tin. Fill each muffin tin 3/4 of the way. Top the muffins with optional 2 tablespoons of chocolate chips. Bake for 25 minutes or until a toothpick inserted comes out clean. Let muffins cool.
Notes
When eating these chocolate chip zucchini muffins, they taste best reheated so they are nice, warm and the chocolate is gooey.
Calories:
180
cal
•
Carbohydrates:
32
g
•
Protein:
3
g
•
Fat:
5
g
•
Saturated Fat:
3
g
•
Polyunsaturated Fat:
1
g
•
Monounsaturated Fat:
1
g
•
Trans Fat:
1
g
•
Cholesterol:
18
mg
•
Sodium:
132
mg
•
Potassium:
136
mg
•
Fiber:
2
g
•
Sugar:
17
g
•
Vitamin A:
76
IU
•
Vitamin C:
3
mg
•
Calcium:
32
mg
•
Iron:
1
mg
Pin Recipe
By

Want to stop binge and emotional eating for good?
Get my 20 must-have recipes e-book packed with simple nourishing recipes you enjoy.
Privacy Policy: We hate spam and promise to keep your email address safe