This overnight oats recipe made with coconut milk is great for a grab-and-go breakfast option. It just needs 15 minutes of prep the night before. Grab a spoon. Let's dig in together.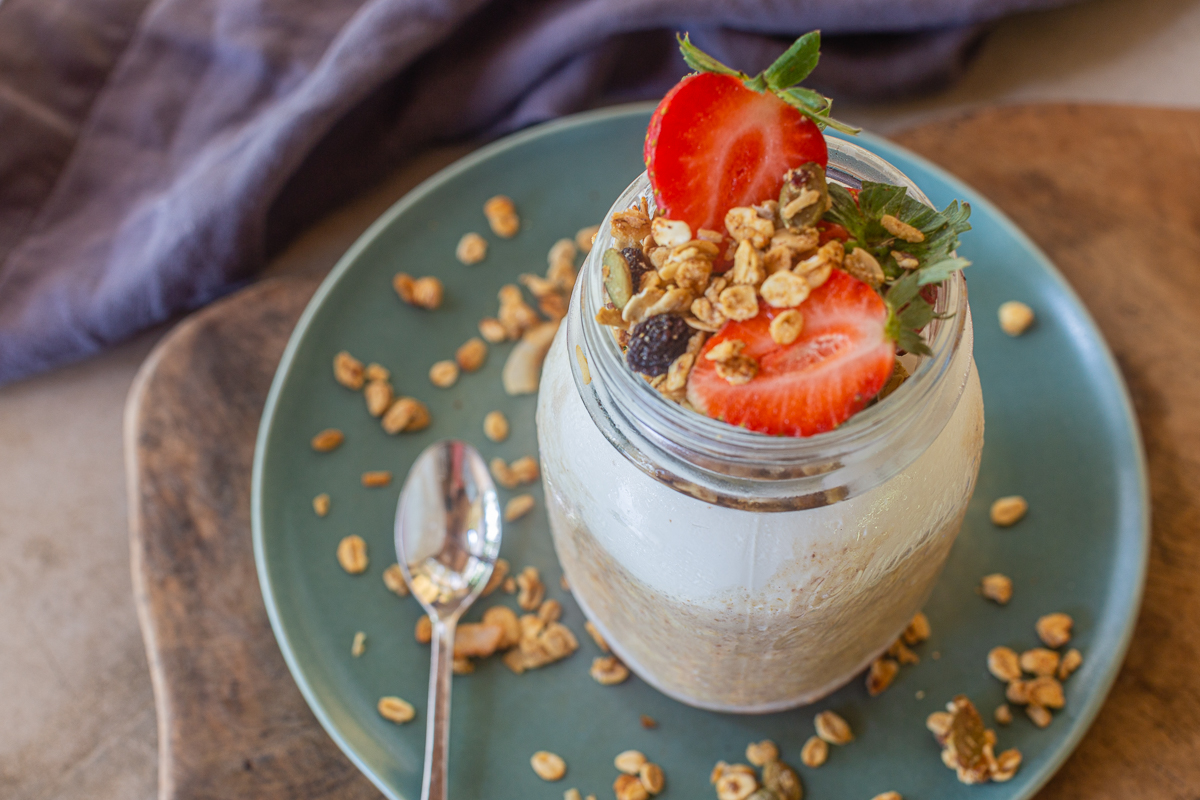 When you wake up in the morning, the last thing you want to do is open your fridge and have nothing to eat. Not exactly how you want to start the day, right?
Yet what if you could take just 15 minutes on the weekend or the night before and make one healthy breakfast option. I'm not saying that you need to plan out your whole week. Find one new recipe or dish to make. When you stick with your commitment to making one meal, it can feel great.
Instead of waking up unsure of what to eat, you can scoop your spoon into a soothing bowl of coconut milk overnight oats.
Coconut milk tastes delicious in overnight oats, smoothies, and even soup recipes. It's helpful to choose an unsweetened option as it has less sugar. Most of the varieties of coconut milk aren't too overpoweringly coconut. Coconut milk is my go-to choice for plant-based milk.
You can use any plant-based milk in this overnight oats recipe, even milk from a cow. Note that dairy can cause inflammation such as congestion in your body.
I like to give you options so you can find what works best for you. I have another overnight oats recipe with almond milk. It is slightly different as it uses blueberries and a touch of cinnamon.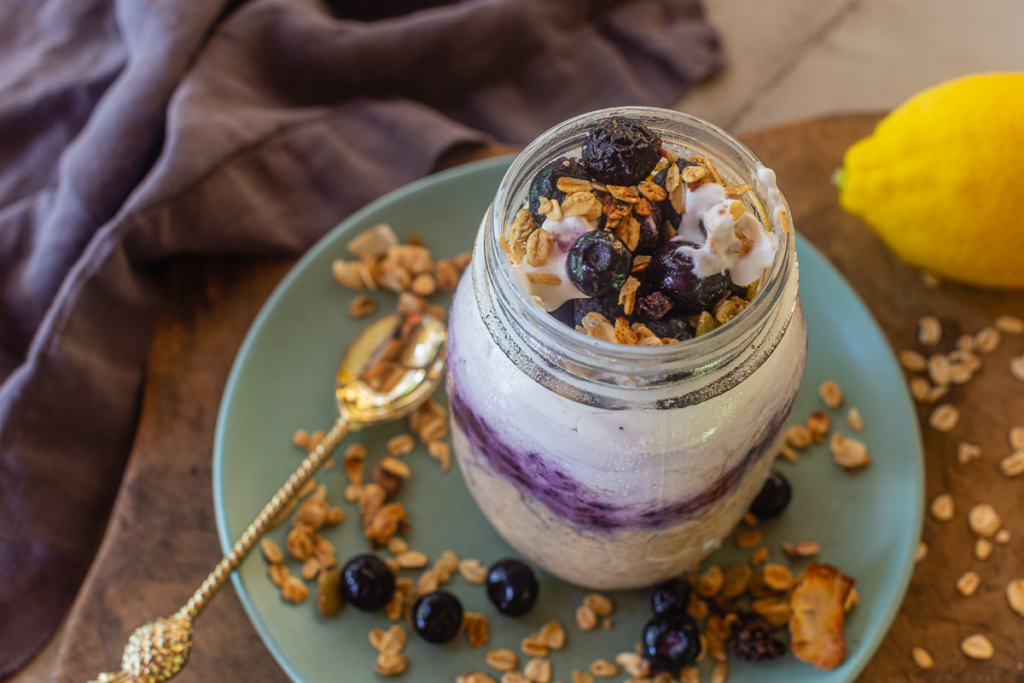 CAN I SOAK MY OATS FOR LESS TIME
I've tried soaking my overnight oats for less than 6 hours, even just 2 hours. When you soak oats for less time, the oats don't absorb the coconut milk and flavors. The dish won't be as hearty or satisfying.
Let's keep things simple. Find a jar with a closed lid. Soak the oats for at least 6 hours.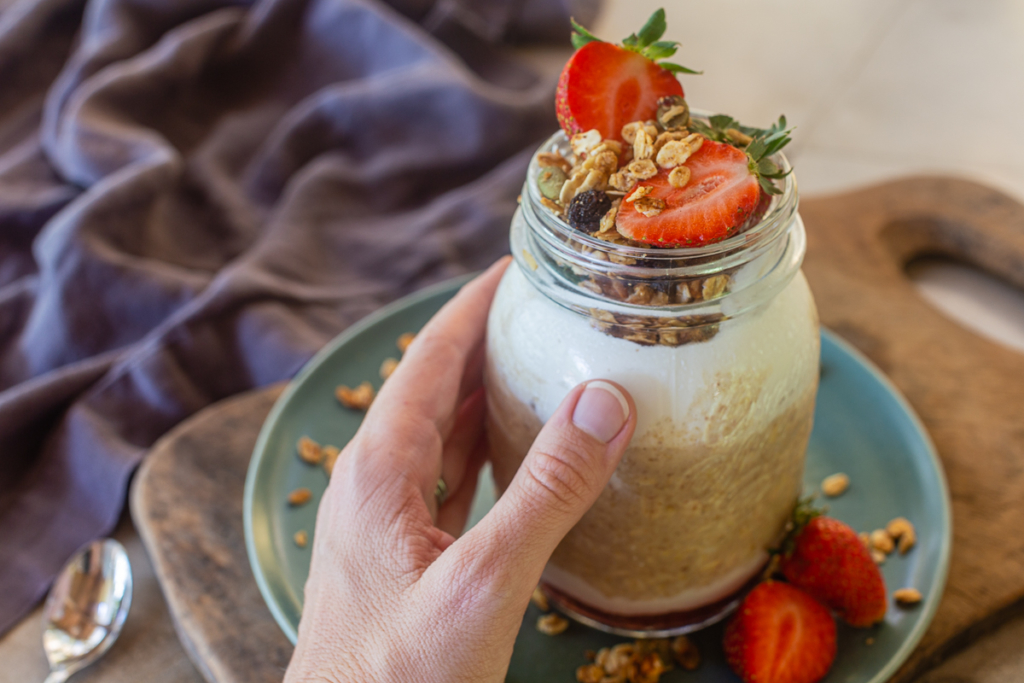 The stewed strawberries give these coconut milk overnight oats so much flavor. If you would like, fresh strawberries on top add a nice burst of color.
When our foods have color and texture, they can feel more inspiring. It can remind you that you are indeed worthy and deserving of nourishing food that you enjoy.
More Easy Breakfast Ideas
If you like this recipe, I think you'll enjoy my almond milk overnight oats made with blueberries.
If you're looking for another overnight oats recipe that is my all-time favorite, you can grab my free ebook. It's filled with 20 recipes that helped me overcome my eating disorder. It is so good and filled with inspiring quotes :)
Coconut Milk Overnight Oats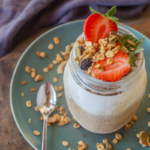 Print
This coconut milk overnight oats recipe is great for a grab and go breakfast option. It just needs 15 minutes of prep the night before.
Ingredients
1/2

cup

frozen strawberries

1

cup

oats

1

cup

coconut milk

unsweetened

1 1/2

tablespoon

peanut butter

1

tablespoon

fresh lemon juice

2

tablespoon

honey or maple syrup

1

teaspoon

vanilla extract

1/3

cup

unsweetened coconut yogurt
Instructions
Place a saucepan on medium heat and add in frozen strawberries. Allow the berries to thaw out for about 5 minutes. Give it a stir occasionally. You can also thaw the frozen berries in a microwave.

Take the back of a spoon or spatula and mash the strawberries. Set to the side.

To a mixing bowl, add the oats, coconut milk, peanut butter, lemon juice, honey, and vanilla. Give it a stir a few more times.

Add the overnight oats to a mason jar or closed container. Then top with the stewed strawberries, and coconut yogurt.

Transfer to the fridge to soak overnight or up to 6 hours. Enjoy the overnight oats cold or warm!
Notes
You can add some optional nuts and granola to give these overnight oats a nice little crunch.
You can substitute blueberries for the strawberries listed. The flavor is still outstanding. Use what fruit is in season or on hand.
Calories:
356
cal
•
Carbohydrates:
53
g
•
Protein:
9
g
•
Fat:
13
g
•
Saturated Fat:
5
g
•
Polyunsaturated Fat:
3
g
•
Monounsaturated Fat:
4
g
•
Trans Fat:
1
g
•
Sodium:
101
mg
•
Potassium:
301
mg
•
Fiber:
6
g
•
Sugar:
22
g
•
Vitamin A:
5
IU
•
Vitamin C:
24
mg
•
Calcium:
55
mg
•
Iron:
2
mg
Pin Recipe
By

Want to stop binge and emotional eating for good?
Get my 20 must-have recipes e-book packed with simple nourishing recipes you enjoy.
Privacy Policy: We hate spam and promise to keep your email address safe