These easy overnight oats with almond milk are a nice step forward on your journey. You are worth food you enjoy. You are worth food with flavor and color.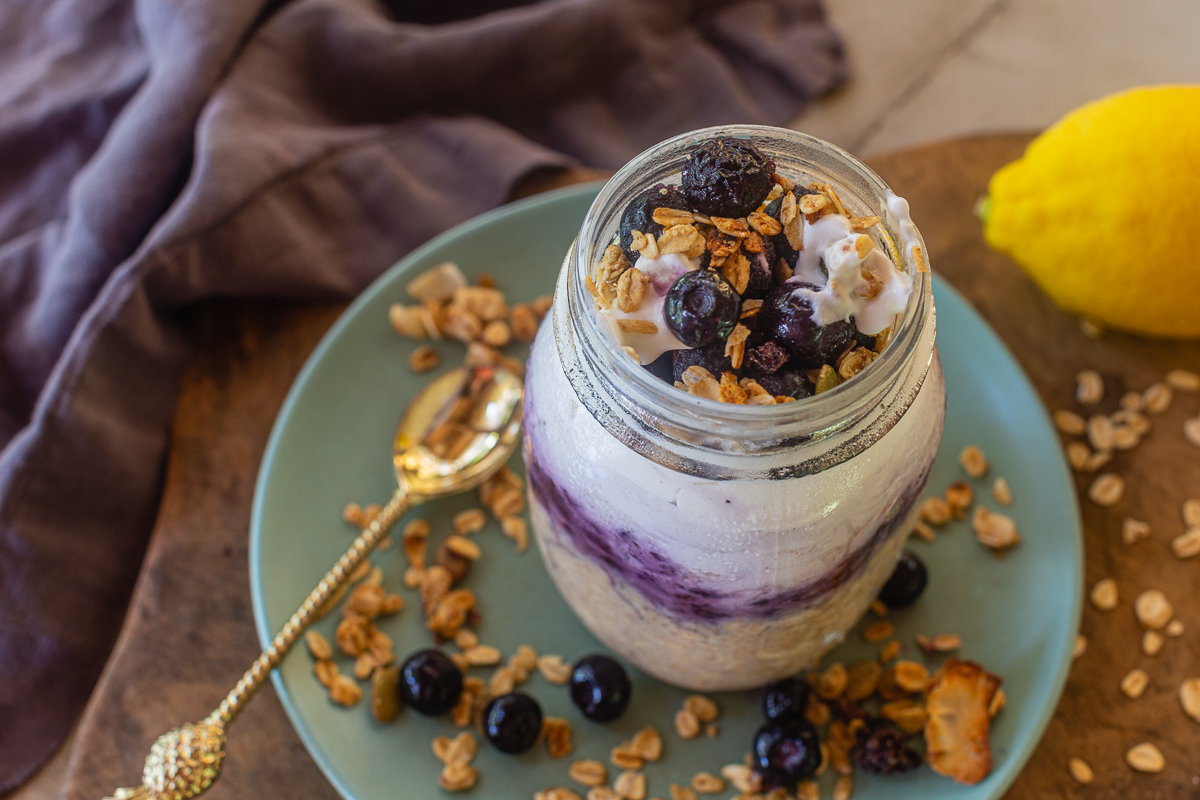 Can I share something with you? Not too long ago I ate oatmeal all the time. I'm not talking about the beautiful bowls of oatmeal and almond milk overnight oats on my website. Oh no I'm talking about plain rolled old fashioned oats and water. That was it.
No berries, no bananas, no granola, no flavor. I thought that I didn't need to waste the extra calories. Yet to no surprise I binge ate even after eating my "safe" food. I can even remember putting Franks Red Hot Sauce on top of oatmeal because I thought it was low in calories and might be more flavorful. Oh my goodness it was so freaking terrible.
If you're feeling in that place, where you're not allowing yourself certain foods, you are not alone. I've been there too.
This almond milk overnight oats is a small step forward. This overnight oats recipe can be adjusted to whatever feels most comfortable for you. Maybe you forgo the coconut yogurt or berries if that feels like too much. It still taste delish!
By taking 10 minutes to make this overnight oats recipe, you're telling yourself you are worthy of food you enough. You are worthy.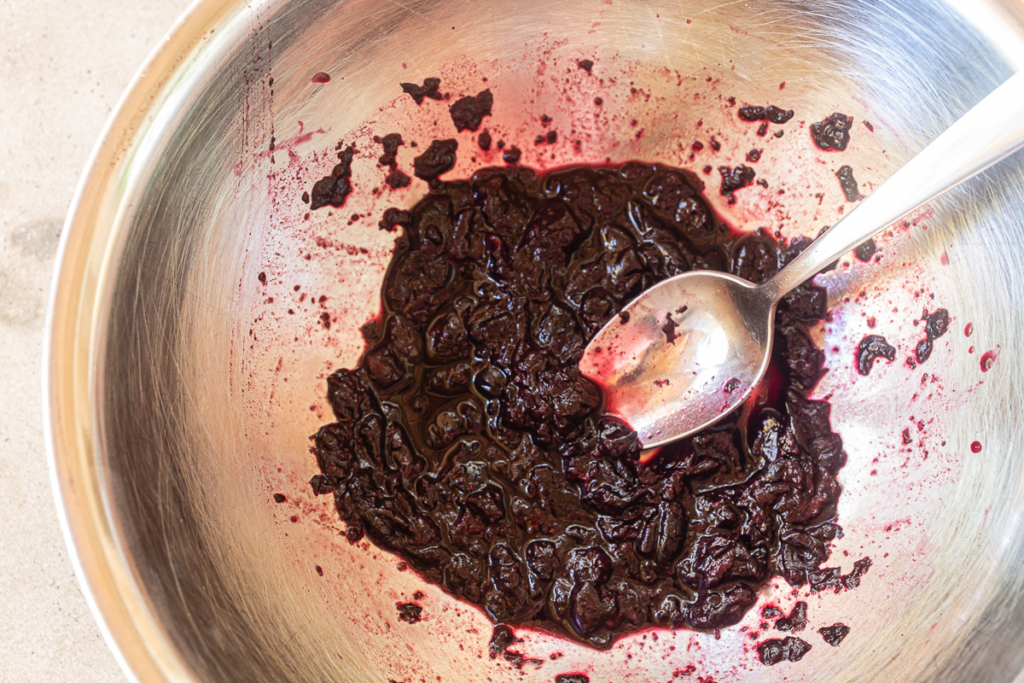 Let's keep things simple so that you have quick and easy food to prep. Overnight oats are best made the night before. The oats need at least 6 hours to soak up the almond milk.
You'll see recipes all over the Internet with these beautiful jars of overnight oats. Jars with closed lids are best. Please note that your recipe might not take up the entire jar and that's okay.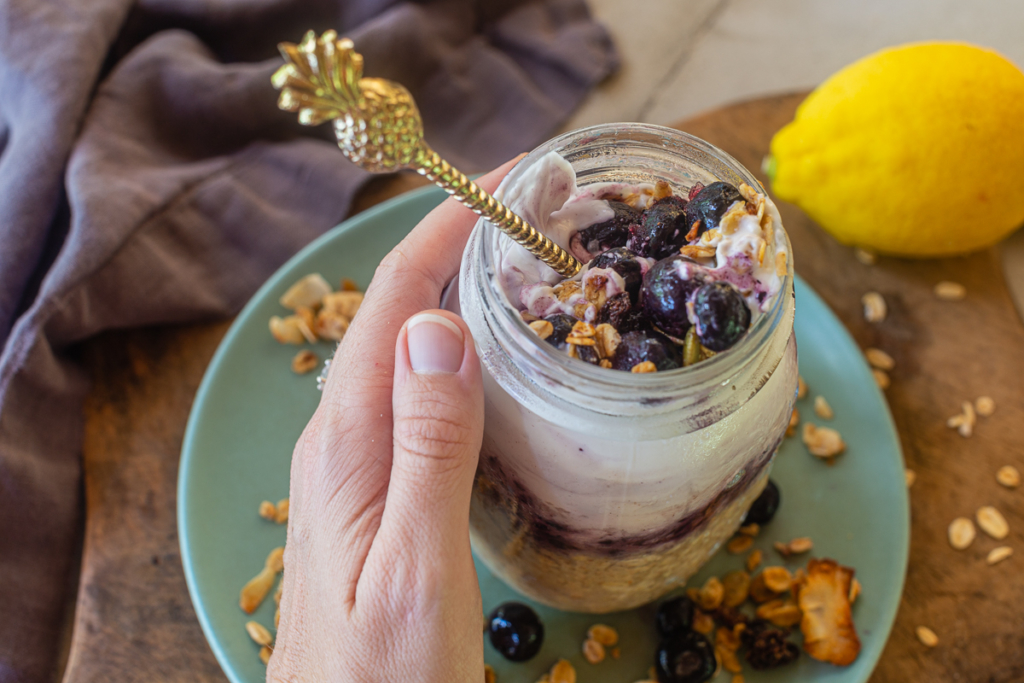 The stewed blueberries really do give this almond milk overnight oats recipe so much flavor and color. The beautiful blue hue adds a pop of color.
When our foods have color and texture, it can feel more inspiring. It can feel that we are worthy and deserving of good food.
More Easy Breakfast Ideas
If you liked my almond milk overnight oats, you'll love my oatmeal with almond milk. It's so easy to make and naturally sweetened with a banana.
Almond Milk Overnight Oats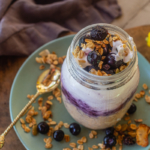 Print
These easy overnight oats with almond milk are a nice step forward on your journey. You are worth food you enjoy. You are worth food with flavor and color.
Ingredients
1/2

cup

frozen blueberries

1

cup

almond milk

unsweetened

3/4

cup

old-fashioned rolled oats

1 1/2

tablespoon

peanut butter

2

tablespoon

honey or maple syrup

1/4

teaspoon

ground cinnamon

1

teaspoon

vanilla

1/3

cup

unsweetened coconut yogurt
Optional toppings
Fresh blueberries

Granola

Nuts
Instructions
Place a saucepan on medium heat and add in frozen blueberries. Allow the berries to thaw out for about 5 minutes. Give it a stir occasionally. You can also thaw the frozen berries to a microwave.

Take the back of a spoon or spatula and mash the blueberries. Set to the side.

To a mixing bowl, add the almond milk, oats, peanut butter, honey, cinnamon, and vanilla. Give it a stir a few more times.

Add the overnight oats to a mason jar or closed container. Then top with the stewed blueberries, and coconut yogurt.

Transfer to the fridge to soak overnight or up to 6 hours. Enjoy the overnight oats cold or warm!
Notes
You can add some optional nuts and granola to give these overnight oats a nice little crunch.
Calories:
321
cal
•
Carbohydrates:
49
g
•
Protein:
8
g
•
Fat:
12
g
•
Saturated Fat:
3
g
•
Polyunsaturated Fat:
2
g
•
Monounsaturated Fat:
4
g
•
Trans Fat:
1
g
•
Cholesterol:
1
mg
•
Sodium:
145
mg
•
Potassium:
231
mg
•
Fiber:
6
g
•
Sugar:
23
g
•
Vitamin A:
21
IU
•
Vitamin C:
4
mg
•
Calcium:
242
mg
•
Iron:
2
mg
Pin Recipe
By

Want to stop binge and emotional eating for good?
Get my 20 must-have recipes e-book packed with simple nourishing recipes you enjoy.
Privacy Policy: We hate spam and promise to keep your email address safe