Looking to add some more flavor to your meal? Let's learn how to make a quick and easy chimichurri sauce with cilantro. This sauce will surely add extra spice to any meal – veggies, salads, steak, you name it. Chimichurri is a herb-based sauce that typically accompanies meats however I use regularly with vegetables and salads. We love using fresh cilantro / coriander and parsley. Delish!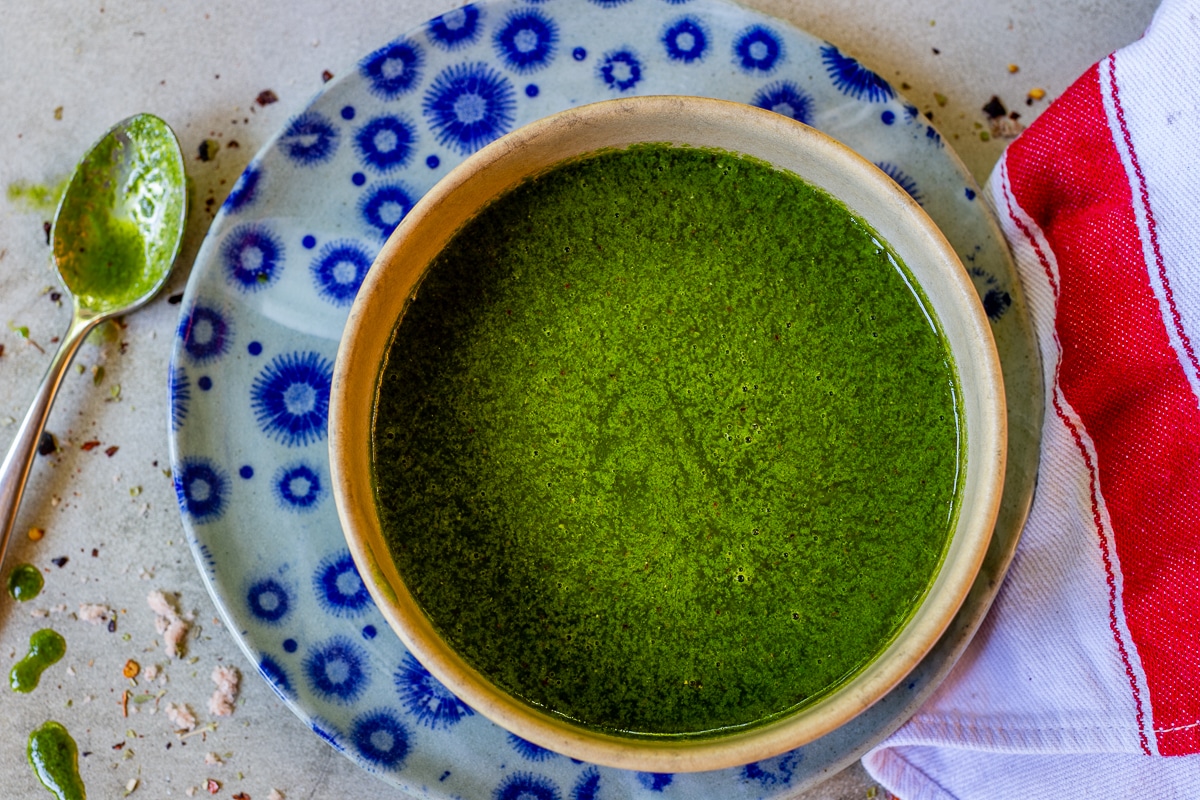 Now there was once a time when my diet was pretty bland. I didn't like trying new foods – broccoli, cauliflower, guacamole. No thanks. Spicy foods are you kidding? No way! That was until Mitch and I started our one year trip around the world.
Our first stop was Buenos Aires, Argentina for one month. The first two days were an adventure. We only knew a few words in Spanish and had not realized that English wasn't widely spoken there. Simple tasks like getting a phone SIM card was a full day adventure.
Everything was new and foreign. I remember ending our first day in tears thinking what was I doing here. I just wanted to go back to the states, to my comforts – where everything was familiar and certain.
I typically like to have control with my food; however, I was struggling to order my dishes in Spanish. To get better at this, I started taking Spanish lessons and quickly improved my ordering skills.
Soon I discovered grilled vegetables with chimichurri sauce. It was outstanding made with fresh cilantro and parsley! I began ordering this daily as Mitch was loving the good quality and reasonably priced steak. We also both enjoyed Argentinian red wine with dinner. It too was affordable and full of body. That combo is hard to come by in Asia.
Please note that I try to encourage more vegetables and fruit. I know that one diet doesn't fit all. We all have our own preferences, flavors, and cultures. And that's great. It's what we do most of the time that matters. For instance, Mitch and I eat mostly vegetables and fruits in our home. He eats meat when we go out once or twice a week.
Chimichurri Sauce with Cilantro is easy to make
Fast forward 4 years, I've rediscovered flavorful chimichurri sauce with cilantro. When you open our fridge, you can usually find some. Chimichurri sauce with cilantro can be easily made two different ways. The more authentic way that you'll find in Argentina is finely chopping ingredients and adding your oil and vinegar.
Personally, I like adding all of my ingredients to a blender. This requires less chopping and I can consistently get more flavor in every spoonful.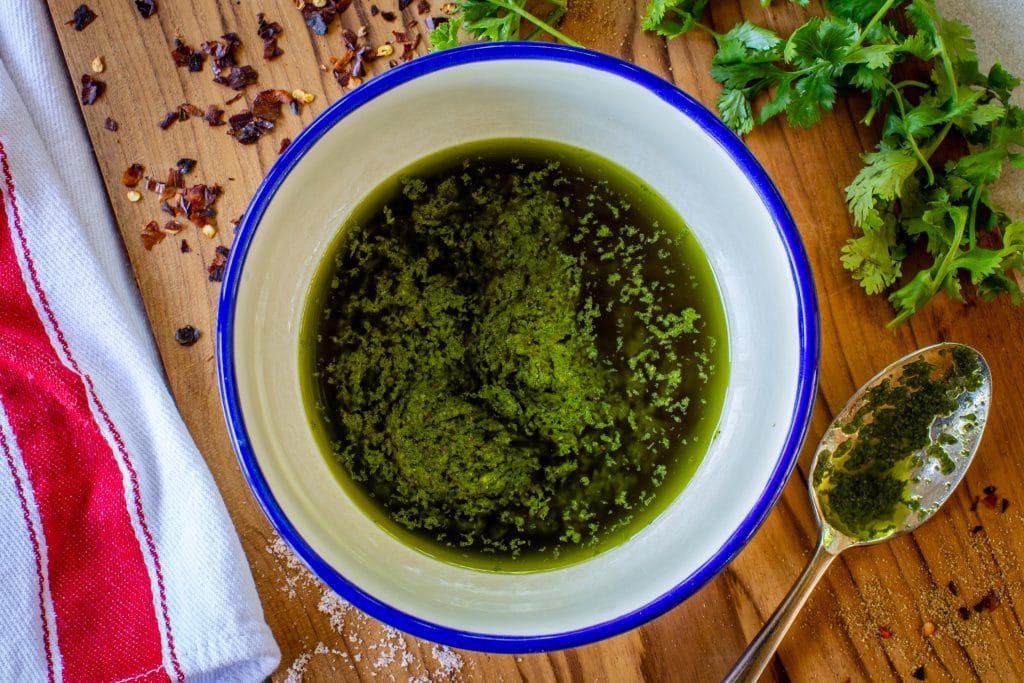 Ingredients in Chimichurri Sauce
Cilantro / Coriander
This is the heart of this sauce and has me coming back for more. Fresh cilantro / coriander is a must!
Parsley
Fresh parsley is another fantastic addition to this chimichurri sauce. It combines so well with the fresh cilantro!!
Spices
Dried herbs and powders make chimichurri sauce easy to make with ingredients on hand. Cumin, chili pepper flakes, oregano add the extra flair to this chimichurri sauce. You can adjust the amount of chili pepper flakes based on your preference. In my home, we use chili pepper flakes often.
Garlic
This is a strong ingredient along with the chili pepper flakes. So please start out slow with this and adjust to your flavor preference. If you add too much garlic or chili pepper flakes, it is hard to fix.
Olive Oil & White Wine Vinegar
These two liquids pull the sauce together. I love good olive oil.
When purchasing olive oil, I select an extra virgin olive oil in a dark colored glass bottle. The dark bottle helps keep sunlight out. Too much light can make the oil go rancid and hurt the quality of the olive oil. I keep my olive oil in an enclosed cabinet away from my stove.
I also want easy access to my olive oil, so I have a dark colored olive oil pourer. Olive oil is great on top of soups, salads, and meals.
How to Make Chimichurri Sauce with Cilantro
It's quick and easy to make chimichurri sauce with cilantro! The fresh herbs – cilantro and parlsey make this sauce really come together. So add all of your ingredients to a blender or food processor and blend. That's it.
You can enjoy filling a bowl with salad greens, steam veggies, and pouring this chimichurri sauce on top. A baked potato tastes tremendous with this too. The potato skin makes for a great carrying device for the sauce. Because the sauce is the best part!
Don't forget to check out our grilled vegetables on skewers and healthy white rice. The grilled vegetables on skewers recipe are best paired with this same chimichurri sauce. The healthy white rice also tastes excellent with this sauce and spicy food.
Chimichurri Sauce with Cilantro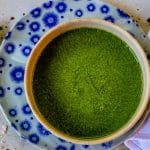 Print
This chimichurri sauce with cilantro is a simple way to upgrade your usual vegetables and pack in the flavor. Enjoy filling a bowl with salad greens, veggies, and pouring this chimichurri sauce on top.
Ingredients
1/2

cup

olive oil

4

garlic

3

tablespoon

white wine vinegar

1/2

teaspoon

salt

1/2

teaspoon

cumin

1/4

teaspoon

chili pepper flake

1/4

teaspoon

black pepper

1/2

cup

fresh cilantro / coriander

1 1/2

cup

fresh parsley

1

teaspoon

dried oregano
Instructions
Combine all ingredients in a blender or food processor.

Spoon on top of salads and vegetables.
Notes
Personally, I love eating this on top of roasted and grilled veggies such as zucchini, asparagus, and bell peppers!
Calories:
256
cal
•
Carbohydrates:
3
g
•
Protein:
1
g
•
Fat:
27
g
•
Saturated Fat:
4
g
•
Polyunsaturated Fat:
1
g
•
Monounsaturated Fat:
1
g
•
Trans Fat:
1
g
•
Cholesterol:
1
mg
•
Sodium:
307
mg
•
Potassium:
150
mg
•
Fiber:
1
g
•
Sugar:
1
g
•
Vitamin A:
2030
IU
•
Vitamin C:
31
mg
•
Calcium:
36
mg
•
Iron:
2
mg
Pin Recipe
By

Want to stop binge and emotional eating for good?
Get my 20 must-have recipes e-book packed with simple nourishing recipes you enjoy.
Privacy Policy: We hate spam and promise to keep your email address safe