Ever think about what to pair with spicy food? Want something more than a bland side? Well look no further than this healthy white rice recipe also known as Chilean rice. It's packed with colorful veggies – carrots, bell peppers, and jalapeños. And a great way to sneak in some vegetables for picky eaters. A quick and easy side to add your repertoire!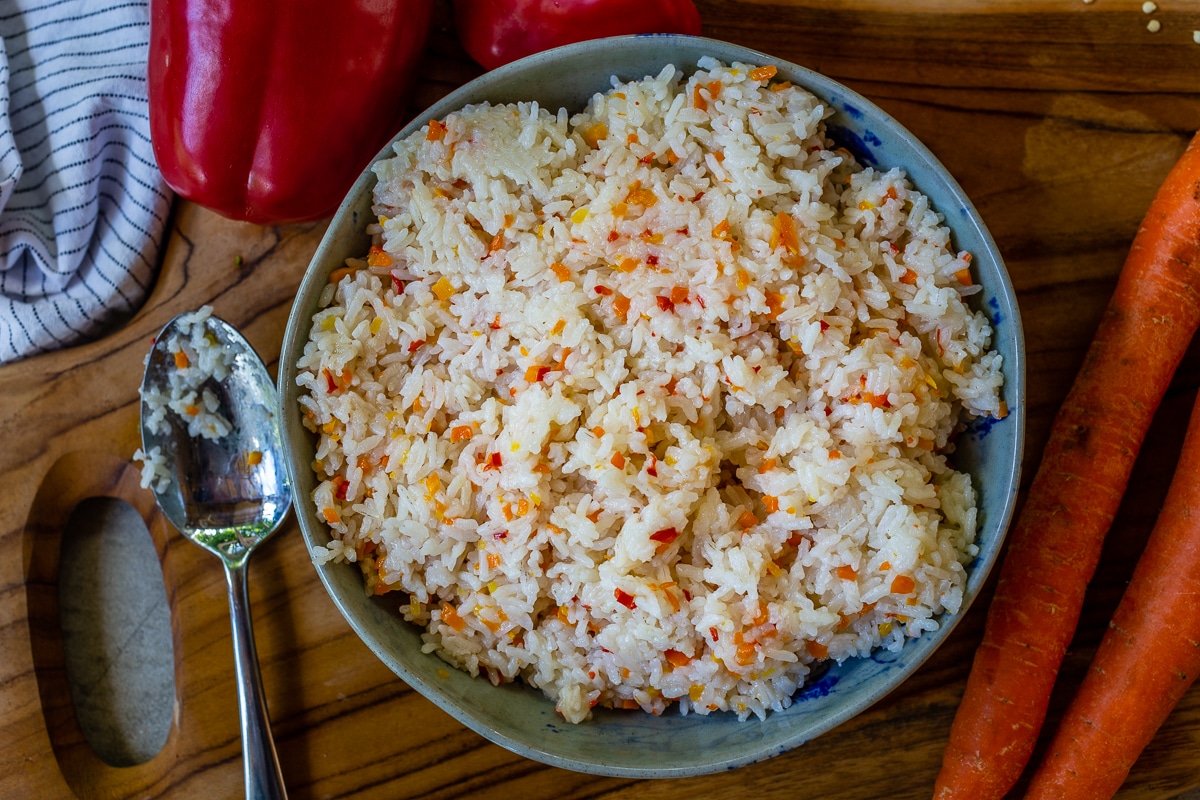 You can learn a lot about a culture through its food. Now I didn't have a ton of time to learn about Chilean food. Mitch, his dad, and I only had four days in Santiago, Chile. Mitch had an idea that this was going to be our most epic month of traveling. We'd visit 4 countries in one month and see so much.
Well we fell into a frequent traveler mistake – we squeezed too much into a short time. At the end of the month, we were exhausted and barely scratched the surface of the vibrant South American countries.
While hopping from spot to spot, Mitch and I had a little revelation that we could enjoy food at top restaurants for a fraction of the price compared to the States. We did this three different times on our world travels. For me, this was epic! One of those times was at an up and coming Chilean restaurant called Boragó in 2015 and now a top twenty restaurant in the world in 2019.
As we sat down, chefs took us on a culinary adventure from land, sea, and even desert. I was amazed watching the chefs bring dish after dish to our table. They explained how each dish beautifully tied to one of Chile's diverse climates. There was a wide range of cuisine traveling from north to south.
What I wasn't expecting to learn was how food can truly become a work of art. This dining experience got me fascinated with how I could share my story through food and photos. The passion and desire expressed by the chefs touched me and changed my perspective on food.
Now more than ever, I was interested in food and would slowly begin picking up photography. I could capture a moment in time with my photos and use words to describe an experience or good meal. This allows me to further connect with others. Because when we share about our experiences, it's wild that others will be open to share too and we can all learn. Pretty cool!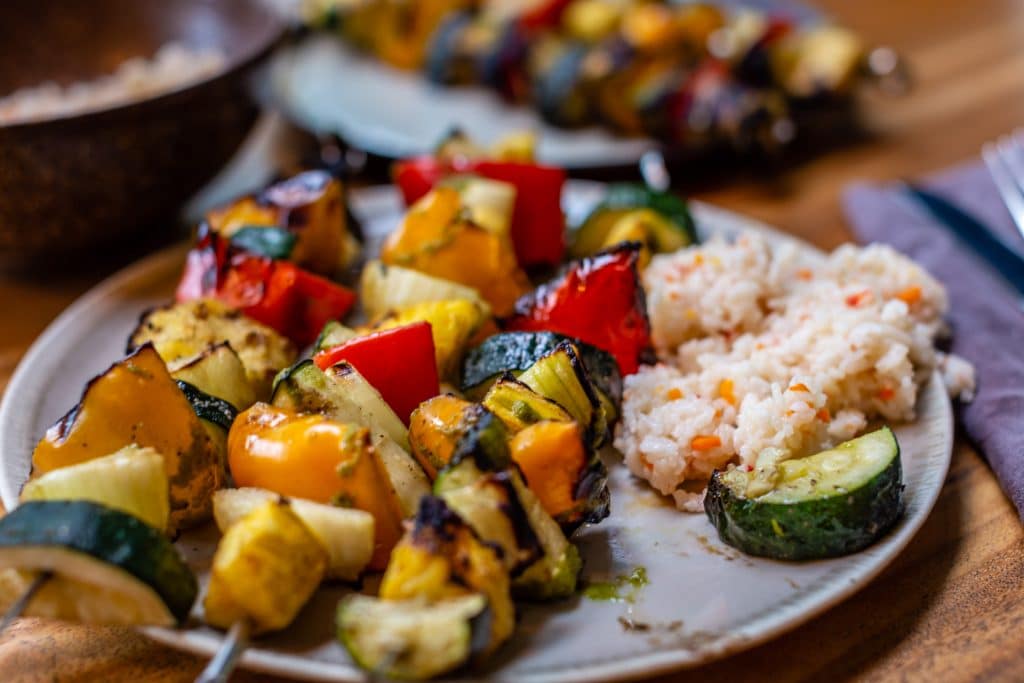 Today's recipe story is all about enjoying a spicy flavorful main and complementing it with an inspiring yet simple side. That's what today's healthy white rice recipe also known as Chilean rice does!
Our sides can encourage picky eaters to eat more vegetables without even realizing it. As a new mom, I'm constantly finding different ways to add in more vegetables. Because I don't know about you but my kid could eat plain white rice, pasta, and potatoes and be beyond pleased. You can find me mixing cauliflower rice with white rice, making vegetable soups, and chopping veggies finely.
I love this healthy white rice recipe because what could be a plain white rice is inspired with veggies. And my kiddo loves this new healthy white rice recipe! As always, you can play with the veggie amounts and add more if you want more nutrients and vegetables.
How to make this healthy white rice recipe
You can make this healthy white rice recipe in a rice cooker or stove pot. First chop up your bell pepper and carrots.
For using a rice cooker, add all the ingredients to the rice cooker. And that's it. Let it cook for 20-25 minutes.
For cooking on the stove, bring a pot of water to a boil. Add your rice and oil to the pot. Cover with a lid and reduce to a simmer for 15 minutes. You do not need to stir. In another pot, sauté your bell peppers, carrots, and garlic. Once the water has been absorbed, mix your vegetables with the Chilean rice and serve with your meal.
What to serve with this healthy white Rice recipe
This healthy white rice recipe works great with any flavorful sauces. I personally love pairing this dish with our grilled veggie kebabs and dripping chimichurri sauce on top. The flavors go together extremely well!
Healthy White Rice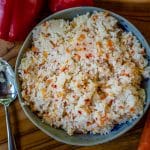 Print
An upgrade to plain white rice that encourages eating more vegetables and goes well with spicy food. This healthy white rice recipe also known as Chilean rice is made with chopped carrots and bell peppers. Say goodbye to plain white rice. And hello to a side with color. A quick and easy side to add your repertoire!
Ingredients
1.5

cup

white rice

6

tablespoon

carrot

finely diced

1/4

cup

red bell pepper

finely diced

1

jalapeño

diced

1

piece

garlic

2

tablespoon

olive oil

2.25

cup

water

1.5

teaspoon

salt
Instructions
Place all ingredients into a rice cooker and cook for 20-25 minutes.

Optional cook in stove pot. Bring water to a boil and add rice and olive oil. Cover with lid and cook for 15-20 minutes. In another pot, sauté bell peppers, carrots, jalapeno, and garlic. Then add all ingredients together and serve warm.
Notes
Enjoy this simple side with a beautiful touch of color!
Calories:
220
cal
•
Carbohydrates:
39
g
•
Protein:
4
g
•
Fat:
5
g
•
Saturated Fat:
1
g
•
Sodium:
599
mg
•
Potassium:
114
mg
•
Fiber:
1
g
•
Sugar:
1
g
•
Vitamin A:
2725
IU
•
Vitamin C:
12
mg
•
Calcium:
21
mg
•
Iron:
1
mg
Pin Recipe
By

Want to stop binge and emotional eating for good?
Get my 20 must-have recipes e-book packed with simple nourishing recipes you enjoy.
Privacy Policy: We hate spam and promise to keep your email address safe