Chocolate and peanut butter what a good combination, and put together in a smoothie – now we're talking. I can't think of a better pair. The chocolate gives off a rich delicate flavor while the peanut butter adds a nice nutty flair. It makes for a sweet variation to your usual morning smoothies. You can even turn this smoothie into a smoothie bowl and top with berries. Delish!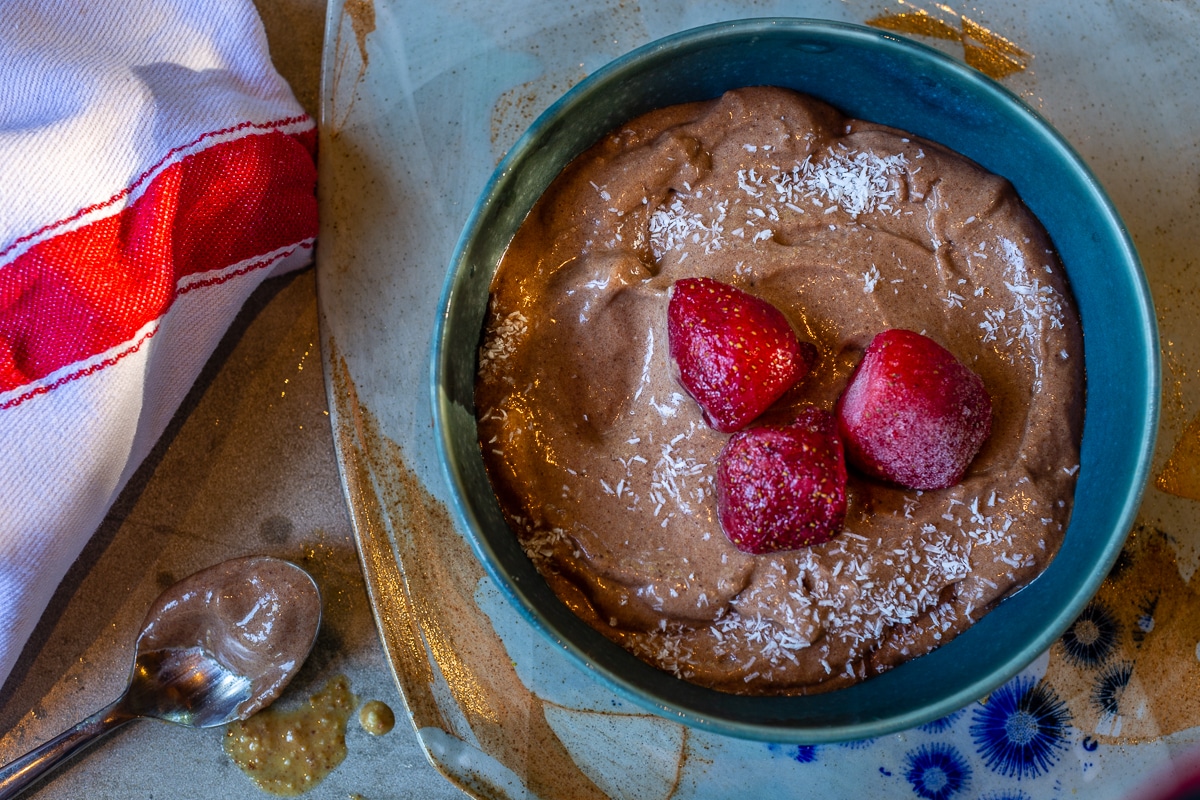 Hi friends! Why not wake up and start the day with a delicious chocolate peanut butter smoothie. It's almost too good to be true and may I dare say almost like a treat for breakfast. And you know what? We deserve to enjoy wholesome food that tastes good too. And this smoothie is packed with lots of goodness.
Why you'll love chocolate and peanut butter in your smoothies
The flavors mix together brilliantly!
One of the reasons why I love this smoothie is that it can be made in minutes with ingredients on hand. I used to and still have a hard time keeping chocolate in my home. Even to this I day when I have chocolate in my home, I know exactly how much and where the chocolate bars are at any given time.
Overtime, I've learned that's it's best for my mental health and waistline to keep chocolate bars out of my home. But that doesn't mean that I no longer have a love for chocolate. Oh no chocolate is near and dear to my heart. That's why I was ecstatic when I found out about cacao or cocoa powder. This rocked my world.
Ingredients in this chocolate peanut butter smoothie
Cacao / Cocoa Powder 
Cacao powder is a raw form of chocolate and gives this smoothie the coveted chocolatey flavor. It is high in antioxidants.
You can also use cocoa powder which is made by roasting at high temperatures and still has health benefits just not as many nutrients as cacao powder. To be honest, use whichever one you have on hand.
Peanut Butter 
It's creamy and a nice boost of protein. We like to use natural peanut butter as it has less sugar and preservatives. You can always substitute with your favorite nut butter such as almond or cashew butter.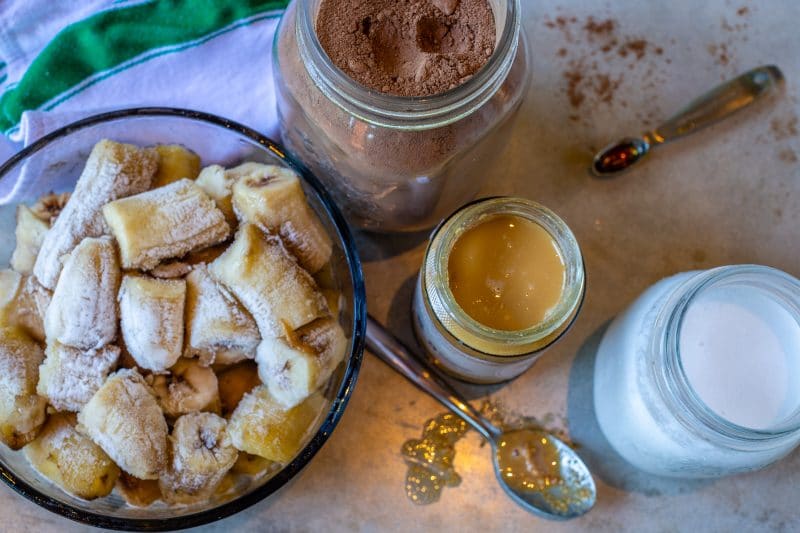 Almond Milk
The unsweetened almond milk is exactly what pulls this smoothie together. You can use any plant based milk here – coconut milk tastes great too!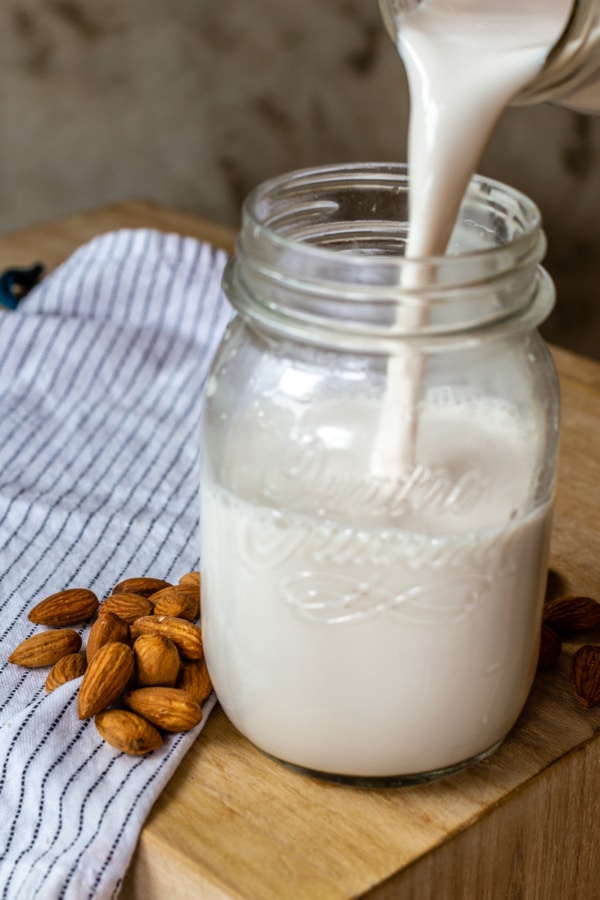 Frozen Bananas 
Frozen bananas are a game changer in our smoothies. They help create the ideal cool and creamy smoothie consistency.
Let your bananas ripen for 3-4 days before slicing your banana and placing them the freezer. The ripened bananas give your smoothie a natural sweetness. We recommend slicing the banana into 4 pieces, so you know how many pieces make up 1 banana.
Dates
We like to use pitted medjool dates. The dates can add even more natural sweetness to this smoothie. The dates are optional. So try it out first and see what tastes best to you!
How to Make This Chocolate Peanut Butter Smoothie
Add everything to a blender and blend until smooth.
I love to eat this chocolate peanut butter smoothie with a spoon and sprinkle on a few toppings. Some of my favorite toppings include shredded coconut, berries, granola, and nuts.
More Easy Breakfast Ideas
Don't forget to check out my homemade healthy granola recipe. It's great to sprinkle on top of this chocolate peanut butter smoothie!
Chocolate Peanut Butter Smoothie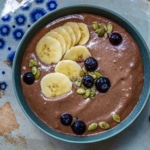 Print
Chocolate and peanut butter together in a smoothie makes for a sweet and filling breakfast. It is easy to make and can even be enjoyed as an afternoon snack. So grab a spoon and enjoy this scrumptious smoothie! We usually lick the bowl clean - it's that good.
Ingredients
4

frozen bananas

1/4

cup

peanut butter

2

tbsp

cacao powder

can substitute with cocoa powder

1

cup

almond milk (unsweetened)

2

pieces

soft dates
Instructions
Blend ingredients together until you create a smooth texture.

Pour in a glass to take on the go. Turn into a bowl and place berries on top.
Notes
Optional: substitute peanut butter with almond butter.
If your dates are dry, soak in water for 5 minutes and then drain.
Add more almond milk for a thinner smoothie and less for a thicker smoothie.
Calories:
386
cal
•
Carbohydrates:
76
g
•
Protein:
9
g
•
Fat:
11
g
•
Saturated Fat:
2
g
•
Polyunsaturated Fat:
1
g
•
Monounsaturated Fat:
1
g
•
Trans Fat:
1
g
•
Cholesterol:
1
mg
•
Sodium:
101
mg
•
Potassium:
1001
mg
•
Fiber:
11
g
•
Sugar:
43
g
•
Vitamin A:
226
IU
•
Vitamin C:
21
mg
•
Calcium:
250
mg
•
Iron:
2
mg
Pin Recipe
By

Want to stop binge and emotional eating for good?
Get my 20 must-have recipes e-book packed with simple nourishing recipes you enjoy.
Privacy Policy: We hate spam and promise to keep your email address safe