Wake up to this refreshing cool recipe for carrot juice. It uses just 4 ingredients: carrots, pineapple, orange, and lime. Add it all to a juicer or blender and viola!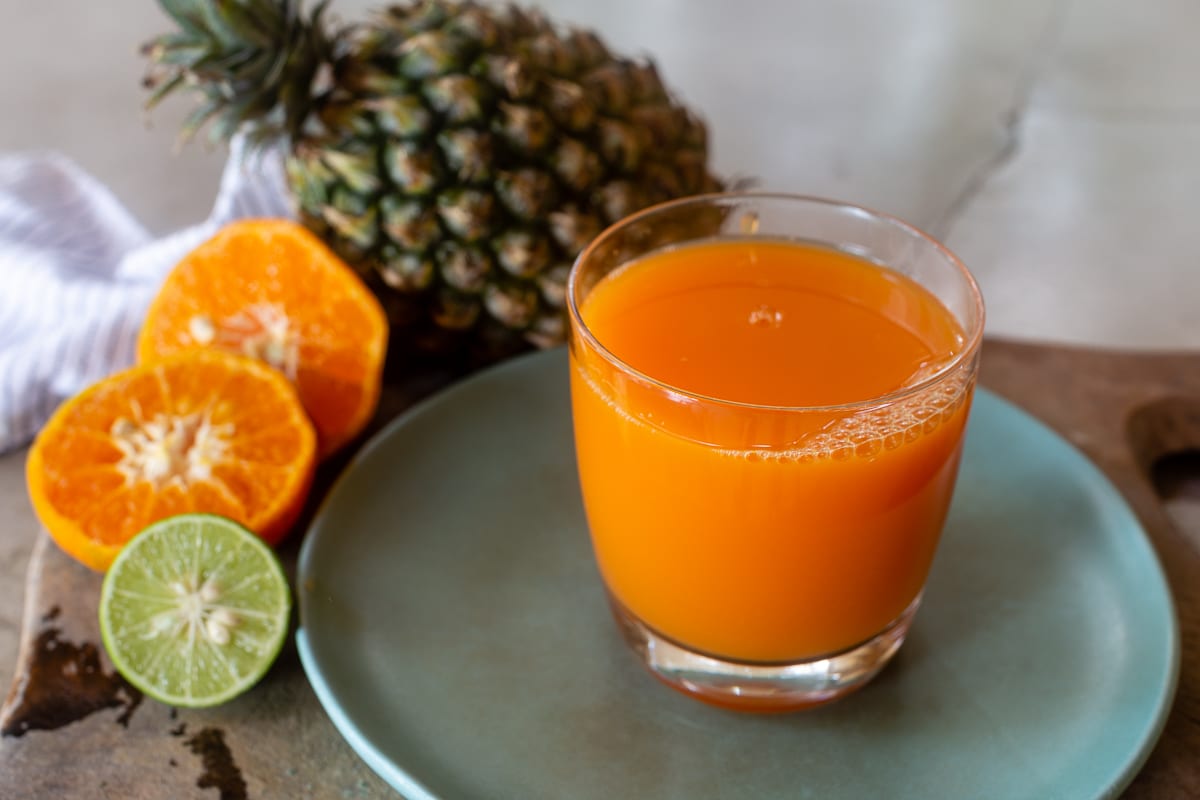 Ever have a love hate relationship with food? The thoughts of the sugar and extra calories can spin through our heads.
Then you look online and see people going on juice fasts and only drinking juice for breakfast, lunch, and dinner. Thinking for a hot second maybe that is how to lose weight and be thin. Maybe this is how you can feel better about yourself. So you try it and it doesn't work at all.
I've been there. I've gone to an eleven day juice cleanse and paid thousands of dollars. I've tried going on multiple 3 day juice cleanses after a big binge. And it doesn't work. I just end up feeling more hungry and wanting to grab any food in sight at the end.
What if you could enjoy juice just for the taste of it? This recipe for carrot juice does have health benefits and is more flavorful than water. Just one glance at this carrot juice, you can see the vibrant bright orange color.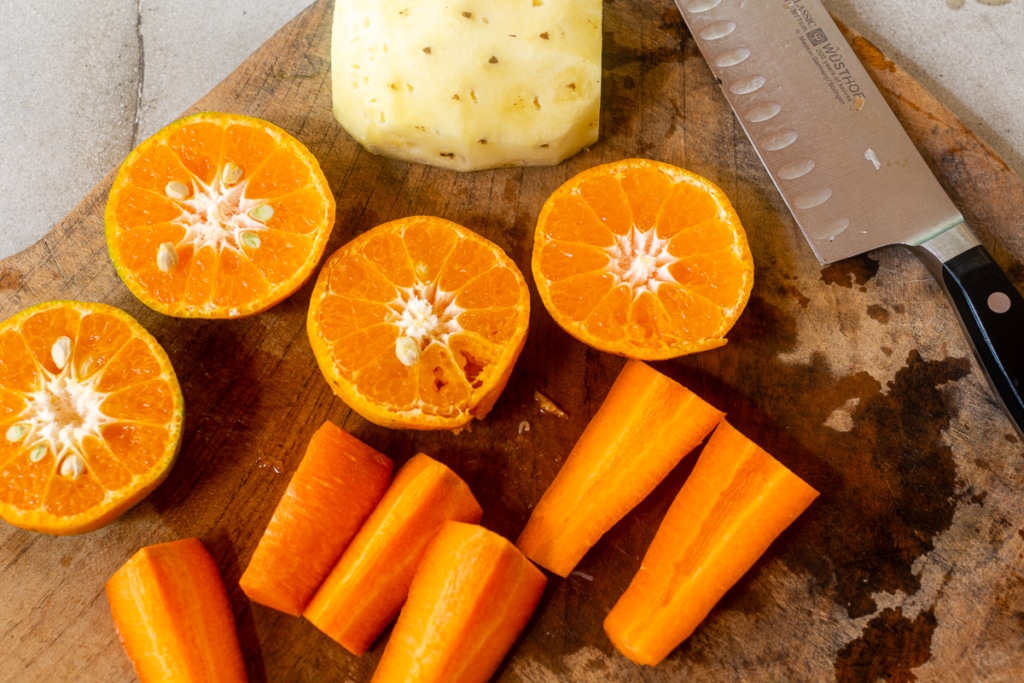 There are a ton of recipes with only carrots or greens. The only problem is they taste too bitter and not very good.
The secret to making your own juice is that you need to add a burst of sweetness to balance out earthy flavors. A squeeze of lime or lemon can enhance any juice. That's why you'll see the pineapple, orange, and lime in this recipe paired with the earthy flavor from the carrots. Together it all compliments one another brilliantly.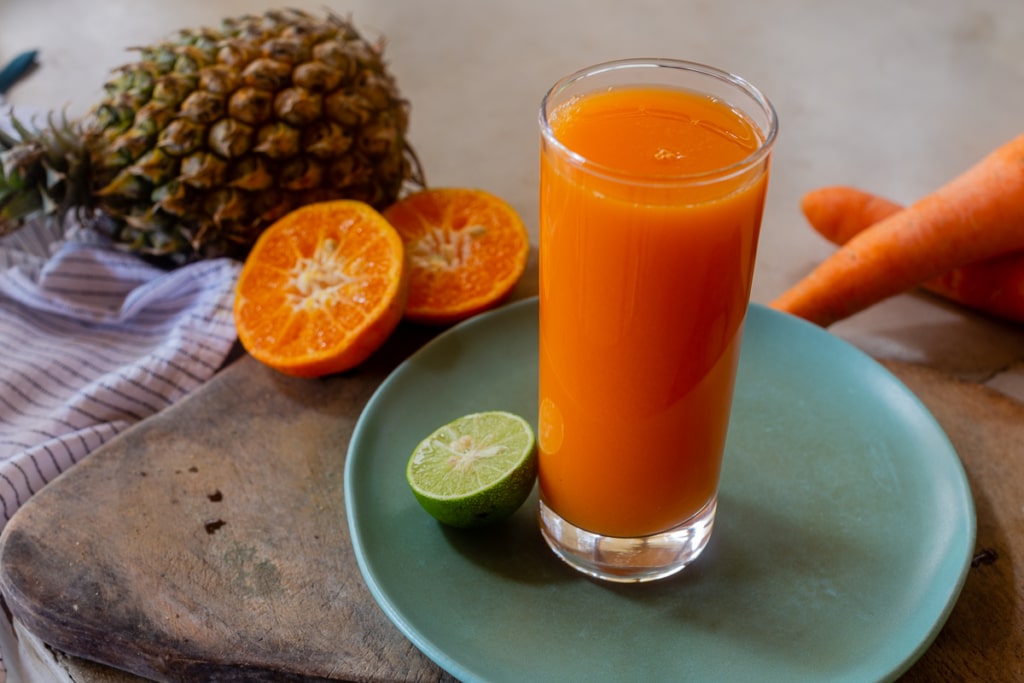 The other thing to note is that you don't need to have a juicer to enjoy juice. You can grab your blender and add all the ingredients in plus 1/4 cup of water. Juicers extract more liquid than a blender.
Then use a strainer to remove the pulp.
Pour your recipe for carrot juice into a glass. You can place the juice in the fridge to cool for 20 minutes. Juice tastes best cold and within 24 hours of making. Remember you are worthy of filling your body with goodness.
Recipe for Carrot Juice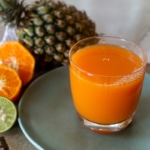 Print
Wake up to this refreshing cool recipe for carrot juice. It uses just 4 ingredients: carrots, pineapple, oranges, and lime.
Ingredients
4

carrots

1/2

ripe pineapple

peeled, cored and cut into chunks

1

orange

peeled

1

lime
Instructions
Place your carrots and pineapple in the juicer and begin to juice. For the orange and lime, I used a manual lemon squeezer to get out the juice. Then add it to the juice mixture.

Best enjoyed cold and within 24 hours.
Notes
To make without a juicer, add all of the ingredients to a blender plus 1/4 cup water. You may need to add more water based on the juice consistency. Pour the juice over a strainer and use a spatula or your hands to get the remaining juice.
Calories:
204
cal
•
Carbohydrates:
53
g
•
Protein:
3
g
•
Fat:
1
g
•
Saturated Fat:
1
g
•
Polyunsaturated Fat:
1
g
•
Monounsaturated Fat:
1
g
•
Sodium:
87
mg
•
Potassium:
790
mg
•
Fiber:
9
g
•
Sugar:
35
g
•
Vitamin A:
20677
IU
•
Vitamin C:
160
mg
•
Calcium:
107
mg
•
Iron:
1
mg
Pin Recipe
By

Want to stop binge and emotional eating for good?
Get my 20 must-have recipes e-book packed with simple nourishing recipes you enjoy.
Privacy Policy: We hate spam and promise to keep your email address safe